GuideMASTER Wine Tour Guide Program #136
info@icare.am
https://www.facebook.com/ICAREArmenia
Developing Wine Tourism in Armenia
Wine tourism has seen significant growth over the past 5 years in Armenia. However, the country still has a large untapped potential in the field. The recent revival of the wine sector, establishment of small boutique wineries and improvement of the wine quality as well as the increasing number of tourists are creating excellent opportunities for wine tourism in Armenia. 
On the one hand, the number of tourists visiting the country and particularly showing interest in wine tourism products is growing. As wine tourism products are transforming into more complex ones, the role of wine tour guides as important links between tourists, wine producers, and other players of the industry is becoming more prominent. 
Therefore, there was an urgent need to systematize and improve the knowledge base on winemaking and wine tourism products to enhance Armenia's image as a wine producing and wine tourism destination.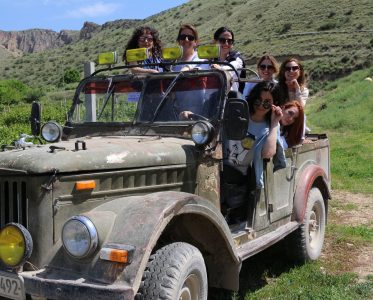 GuideMASTER Wine Tour Guide Training Course
To fill in this gap, GIZ in close cooperation with the Vine and Wine Foundation of Armenia and RA Tourism Committee designed the Wine Tour Guide project. Implemented by ICARE Foundation, the project resulted in development of a comprehensive training course including modules on Communication and Guiding Techniques, History of Armenian Winemaking, Geography, Viticulture and Winemaking. 
Mastering the wine guide profession
As a result, 20 tour guides have been trained and certified as Wine Guides to professionally serve the industry needs. The training included classroom lectures and field trips to wineries, museums and historical sites related to winemaking. The certification will be recognised by the state and private as an official trademark of quality.
The expected outcomes from the training course are:
participants can design and perform/offer guided wine tours competently,

participants can make guests feel enthusiastic about Armenian wine-growing landscape, regions history and wines, 

improvement of the quality of already wine tourism guide services, 

better trained workforce for the market and industry.

a sustainable training programme recognised by the industry.
The results of the pilot have been revised for future rounds of training. The second training round starts in March.