Gocha's Collection – Askaneli Winery & Distillery #9
110 a, Kakhety Highway, 0198 Tbilisi
Info@askaneli.ge
Gocha's Collection: the premium wines from Askaneli
Gocha's Collection – the top line of premium wines from Askaneli, which Gocha Chkhaidze has created. The premium line Gocha's Collection includes three still wines: Prima, an elegant blend of Chardonnay and Rkatsiteli; Muza Qvevri, an outstanding quintet of Qvevri autochthons (Rkatsiteli, Kakhuri Mtsvane, Kisi, Krakhuna and Mtsvivani) and Saperavi Reserve have already been favored by the jury of international competitions.
One of its wines Prima is dedicated to his wife, to his muse, prima ballerina Irma Nioradze.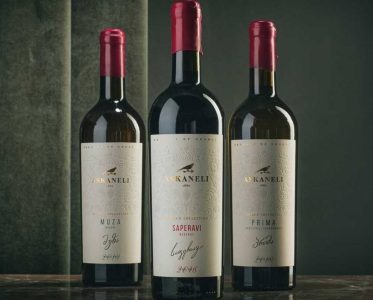 Gocha's Collection "Muza Qvevri"
Muza Qvevri is made according to Georgian traditional technology in an earthenware clay vessel – qvevri and fermented on skins, combining five eastern and western Georgian noble white grape varieties in a dizzying symphony. Possessing the rarest properties, Muza Qvevri White is unconditionally recognized by lovers of exotic premium wine. This light golden wine is endowed with rich aromas of white plum, white cherry jam and thyme in a harmonious union with light oak notes. This wine symphony is crowned with medium plus acidity, delicate tannins, medium body, and a velvety prolonged finish.
Gocha's Collection "Askaneli Prima Chardonnay Rkatsiteli" & Gocha's Collection "Saperavi Reserve"
Prima Chardonnay-Rkatsiteli made of selected grapes of French Chardonnay and Georgian Rkatsiteli picked from the vineyards of Askaneli Brothers. The wine has an amazing harmony of spring floral aromas and summer fragrant notes created with Burgundian method of barrel fermentation and Bordeaux method of blending wines. The wine has rightfully earned great praise among the wine professionals and lovers of premium-quality wines of exceptional quality. The technological process of this exceptional wine is very complex and meticulous and requires constant attention and a lot of care. Harvest date is scrupulously defined, bunches are carefully selected, the wines are barrel fermented, then blended and barrel aged before bottling. This light golden color wine, saturated with aromas of lemon, green apple, white cherry, green pear, vanilla and smoke perfectly matched with crispy acidity, excellently leading into a full body and prolonged velvety finish.
Saperavi Reserve – made of the legendary Saperavi variety from the best vineyards of Kakheti, is a premium wine that has received undeniable recognition among the wine connoisseurs. Harvesting is carried out by hand at the time of optimal ripeness of the berries, at the winery the fruits are sorted, followed by soft pressing. Fermentation of the must is carried out in steel tanks and oak barrels with strict temperature control. The wine is aged in French oak barrels for 18 months. As a result of this laborious winemaker's work, a graceful and elegant dry wine is produced. This refined dark ruby ​​wine flaunts aromas of black plum, blackberry, black pepper and black cherry combined with delicate notes of vanilla that turn this special wine into a real elixir of life. The perfect balance is achieved by soft rich tannins, high acidity, full body and prolonged velvety finish.