Federico Quaranta and Tinto, Decanter Radio Program #143
instagram, facebook, twitter: @tinto1976

Decanter: a bubbly insight into the world of food and wine
Decanter is one of Radio2's most popular programs that has been on the air since 2003, broadcast from Monday to Saturday at 7.50 pm. Fede & Tinto, the voices of Decanter, made over 1,500 episodes all dedicated to wine & food, and they ensure that they still have a lot to tell. The hosts are often joined by the Radio2 stars such as Andrea Amadei and Claudio Cerasa. The show is edited by Lucia Mosca and Valentina Totta and directed by Alessandro Provenzano.
From Monday to Friday at lunchtime and on Saturday and Sunday at dinnertime, a modern convivio brings together connoisseurs and professionals, novice cooks and star chefs, housewives in search of inspiration and young people hungry for something new. Decanter is an exchange of thoughts and ideas in the name of good taste. The two hosts and their guests are sharing their knowledge of Italy's top gourmet food and local products, outstanding wines of Trento DOC and Franciacorta bubbles, the great Italian reds, Brunello and Barolo, as well as indigenous wines from all over Italy.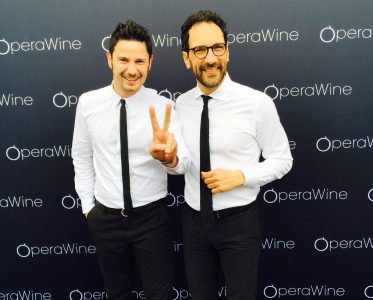 Fede & Tinto: the heroes of food and wine
Entering the world of food and wine by chance, Fede & Tinto became opinion leaders in just a few years, managing to turn the news of haute cuisine, gourmet food and wine into a practical and popular content. In 2008 they entered the Guinness Book of Records for having toasted a 2.50 m high glass of Asti DOCG in Piazza del Duomo in Spoleto, in front of thousands of people. Fede & Tinto have also received important awards for their radio show, as the best Italian and international media promoting Italian food and wine culture.
Who are the Decanter hosts?
"Fede" Federico Quaranta is not only a radio host but also a television presenter, hosting several shows on La7 and RAI network. His most recent show on Rai1 TV channel, Linea verde Radici (Roots' green line), tells amazing stories of traditions, nature and food. In the field of radio Fede is dedicated to Radio2, hosting the Decanter and obviously enjoying it. "I am a storyteller of places, food, and respect for values, and I see bringing food and wine as well as environmental heritage to the forefront as my mission," says Federico about himself. Federico Quaranta is also an author. He wrote three books in collaboration with Tinto: "Not that much of a sommelier", «111 Italian wines that you really must taste», and "Not that much of a sommelier: for each food its wine, the pairings of Vinocult". Fede also wrote Anche i vegani fanno la scarpetta (Even vegans do the scrapping) together with his friend Andy Luotto, and his latest book is called Terra…riscoprire le nostre origini per costruire un futuro migliore (The Earth…rediscovering our origins to build a better future).
Nicola Prudente, known as Tinto, is the author and television host of programs such as Linea verde orizzonti, Magica Italia, Turismo e Turisti, Fuori di gusto, Un pesce di nome Tinto and several others, many of them hosted together with Federico Quarante, with whom he also wrote several books mentioned above. Tinto also performs as a solo author: in December 2020, his book "Mica Pizza e Fichi" was released, and in March 2021, his first novel, "The neck of the bottle, stories of lives" was released exclusively with Amazon KDP.