A.Pervushyna@shabo.ua
+380 95 535 81 89
Making Ukrainians proud of their country's wine
The family business of the Iukuridze family — SHABO, is based on wine traditions that are almost 2,000 years old. The company was established in 2003 on the basis of the oldest Ukrainian wine production in the village of Shabo. Its structure includes "SHABO Wine House", "SHABO Sparkling Wine House" and "SHABO Brandy House".
SHABO has a unique terroir with 1,200 hectares of vineyards, most of which are European varieties from the best nurseries in Europe: Cabernet Sauvignon, Cabernet Franc, Merlot, Muscat Ottonel, Pinot Gris, Pinot Noir, Riesling Rhine, Sauvignon Blanc, Traminer Pink, Chardonnay and others. The real landmark of SHABO is the autochthonous grape variety Telti-Kuruk. While creating wine masterpieces, the company has been collaborating with world-renowned expert Stéphane Derenoncourt from France for many years.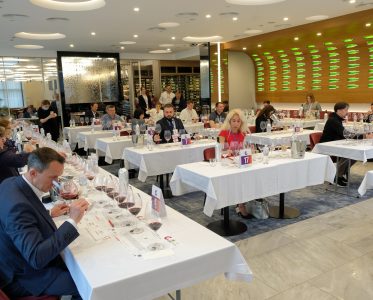 Unique collection Iukuridze Family Wine Heritage
On December 17, 2021, on the 18th anniversary of the company, the teaser of the unique collection Iukuridze Family Wine Heritage was officially revealed to the public. It is characterized as the Great Wines of Ukraine – Only selected grapes from selected microparticles of the SHABO terroir. Exceptionally special years of harvest from vineyards whose vines are over 20 years old. Creation of the Iukuridze Family Wine Heritage was the dream of SHABO founder Vazha Iukuridze, which he had been working on since the company was founded.
SHABO's wines
Created from Shabo's terroir's own grapes, SHABO's wines:
Won more than 500 awards in prestigious competitions, including the Decanter Wine Awards, Mundus Vini, New York IWC and others. And in 2021, Ukraine won two gold medals at the London Decanter for the first time, thanks to Chardonnay Shabo Grande Reserve 2015 and Cabernet Shabo Grande Reserve 2017, which received 95 points out of 100
Represent Ukraine in the famous Wine Museum in Bordeaux, where only one sample of wine from each country is exhibited
Being exported to 22 countries around the world
Listed in Michelin-starred restaurants in London and Paris
Sold in London's Hedonism Wines
The SHABO portfolio includes still and sparkling wines, distilled drinks, including brandies, cognacs of Ukraine, Grape Vodka. Exclusive products include Kvevri wines made with Georgian technology (which is over 8,000 years old) and natural semi-sweet wines, which are produced in Ukraine only by SHABO.