2091 ETYEK, Báthori Street 21
Constant breeze and limestone base rock…
Our winery owns vineyards in two distinct wine regions: Etyek-Buda and Sopron. Etyek-Buda, located just 30 minutes west of Budapest, is known for its cooler than average climate, constant breeze and limestone base rock, which offer ideal conditions for making sparkling wines, crisp and lively white wines, as well as Pinot Noir. Sopron is located in northwestern Hungary, with our vineyards located near Neusiedler Lake. The red wines of this region have great potential for ageing, which is proven by our fruit-forward Merlot and Kékfrankos varietal wines, bottled since 2013.
The wine selection is an interesting mix of Hungarian interpretations of well-known international grape varieties (Sauvignon Blanc, Chardonnay, Pinot Noir), as well as autochthonous grapes (Szürkebarát/Pinot Gris, Zenit), many in the small-batch experimental series named after our head winemaker, Sándor Mérész.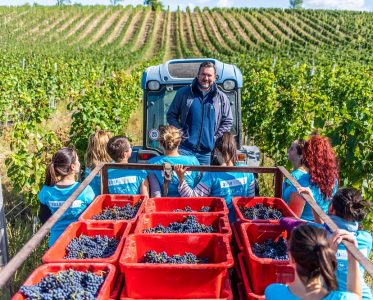 Slow food and slow "wine" in the countryside
We offer a chance to leave behind the bustle of the city in just 30 minutes and enjoy slow food, slow "wine" and a fully chill atmosphere. The vineyards literally surround the building, so nature is right at your feet as you arrive at Etyeki Kúria. Our wines have earned numerous awards at international and national wine competitions (Decanter, Mundus Vini, Concours Mondial de Bruxelles, Berliner Wein Trophy, International Wine Challenge etc.).
The unique event venues
Wine Tasting Hall (40-60 pax.) –  In our Wine Tasting Hall, the large glass surfaces create a unique atmosphere of being close to nature. In addition to wine tastings combined with lunch and dinner, our spacious hall is also an ideal venue for MICE events – professional conferences, press conferences, product presentations and partner meetings. The hall equipped with projection and darkening technology as well as a sound system can accommodate up to 70 people. In nice weather it can be opened up to the spectacular terrace, which can accommodate another 60 people.
Swabian Cellar (20 pax.) – The evocative atmosphere makes this building the pearl of our estate. Our Swabian Cellar building has a cosy 35 m2 room connected to a small terrace and a beautiful garden. With a service desk and direct parking, it is an excellent meeting room for smaller groups. The renovated, 150-year-old authentic vaulted cellar can be used as a venue for organised team-building programmes.
Pavilion (70-200 pax.) – In the immediate vicinity of our main building and surrounded by our Öreghegy vineyards stands our airy 300 sqm Pavilion – supplemented with a 100 sqm covered terrace – that can accommodate 70-200 people.  With a separate service building and kitchen, as well as parking space for 48 cars, the Pavilion is the perfect venue for corporate team-building training, product presentations and partner meetings, as well as family events and weddings.
Besides, Wine Bar: open year-round, our wine bar offers the opportunity to taste the entire portfolio of the Etyeki Kúria winery. Guests can enjoy a creative and season a la carte menu on the weekends. We of course welcome private and company groups by prior appointment for tastings, lunch and wine dinners. We show guests our winemaking facilities through glass surfaces, and at harvest time, the selection table is set right next to the terrace, offering a first-hand glimpse at the first steps of the winemaking process.