Pössnitz 48 A-8463 Leutschach a.d.W.
+43 (0) 3454 265 weingut@sabathi.com
These days the winery is in the hands of Erwin and his wife Patrizia
Essential key positions of this traditional winery are covered together with Erwin's two younger brothers Gerd and Christoph. Therefore, all important decisions concerning the vineyards and the wine cellar are taken within this family framework. In spite of modern technology a sustainable cultivation of the vineyards, mostly done by manual work due to the extreme steepness, is very important. The tradition of growing wine has existed within the Sabathi family already since 1650. The oldest ancestor and progenitor is Jerg (Georg) Sabathi. In 1938 our grandfather Johann Sabathi sold the Knappenhof estate and together with his wife Ludmilla he purchased the today´s ancestral seat of the Erwin Sabathi family in Pössnitz. In the fifties our grandfather Johann Sabathi recognised the potential of "Pössnitzberg" and acquired the first core of this precious vineyard. Even at that time he reproduced the best plants of his 50-years old Sauvignon Blanc-vines. In 1968 Erwin Sabathi Sr. took over the responsibility for the winery. Since that time vintage wines of the Single Vineyard Pössnitzberg have been stored in our wine cellar.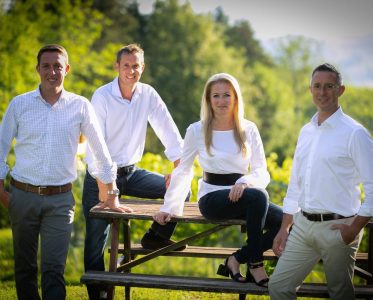 The base to vinify great wine is a perfect terroir
Our wine is representative of our terroir:  the vineyard-locations, climate and the soil conditions of our vineyards in Southern Styria. All grapes are harvested by hand, all vineyards are cultivated according to organic guidelines, all wines are exclusively fermented with natural yeasts.
Nature is an enormously valuable heritage
The making of wine is a craft, down-to-earth and close to nature. Nature is an enormously valuable heritage, this needs to be respected. For us, the main focus is based on how we can support natural dynamics at best and let nature take its course and how can the terroir be expressed in our wine at best.
The harvest of our grapes is the most important time of the wine year, at the same time the most critical time. Only by a very careful selection, the grapes deliver the high quality of our vines into the cellar. Due to a very high inclination, our extremely steep vineyards need to be harvested by hand, which is the original and traditional way of the grape harvest.
The spontaneous fermentation, (fermentation only with natural yeasts), ensures the creation of wines reflecting their terroir. Furthermore, due to the spontaneous fermentation the expression of natural aromas in the wine is much better and fruitier. The spontaneous fermentation is one of our steps to transmit the inimitable, unique character of a vineyard to the taste of a wine and to present an identifiable taste of the wine-growing area.
Guided tours of our wine cellar are possible for groups of 8 persons or more. Therefore we kindly ask you for an appointment.