Cin-cin to spaziovino.com…
Drop the rocketing international wine career and write solely about Italian wines and lifestyle. I made that decision in 2012 to create spaziovino.com. Visiting the world's finest vineyards, speaking at prestigious wine business events, attending rare and exclusive tastings, was exchanged for setting up an online Russian language resource that would concentrate on the beautiful wines, many of them still little known, of bel paese. I never regretted it.
This year spaziovino.com is celebrating a milestone – its first ten years. It was ambitiously launched as the premier Russian website for Italian wines, and it continues to maintain its reputation. Being based in Italy for the past 17 years helped me to keep abreast of its wine developments. Travelling the Italian peninsula from Aosta to Sicily, visiting all wine regions from famous to obscure, meeting all sorts of Italian wine people and tasting thousands of wines, I am doing my best to report it all on spaziovino. And I am having fun doing it.
Take a quiz. How sweet is Prosecco Extra Dry? Who's the latest artist for Ornellaia Vendemmia d'Artista? What happened to the founders of the Brunello consortium that was set up in 1967? How does Perricone taste? What is the best beach in Sardinia on which to enjoy a glass of wine? What grape does the president of Damiani Jewellery grow to make his house wine? Is the era of the superuscans over? How long is Amarone aged before release? What came first – Ferrari cars or Ferrari wines? How do top Italian brands perform at Liv-ex? What Barolo 2016 can you recommend? What's the next hottest wine area in Italy? A tip: look for answers at spaziovino.com.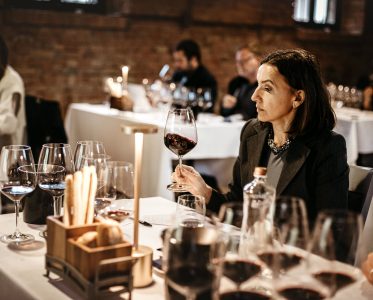 …with the Italian Aperitivo!
There is more. Why not have a glass of wine, make some Italian snacks and enjoy an aperitivo like Italians do? Last year, taking advantage of the chronic Italian lockdowns, Italian food writer and friend Paola Lovisetti Scamihorn and I had a few drinks together – and then wrote Aperitivo, The Italian Happy Hour. Without false modesty, this is a unique book, showing how Italians enjoy a satisfying drink paired with flavourful food. Paola provided recipes, all tested in her home kitchen, and I came up with suggestions for Italian wines, vermouth, gin (yes, Italian!) and cocktails. The book has just been published in Denmark. Paola and I are looking forward to having it published in other countries and languages.
Wine is a never-ending journey
I've been writing about wine for over twenty years. I am also an official ambassador for the Langhe wines (Barolo and Barbaresco) and part of the team of authors of the international bestselling wine guide Hugh Johnson's Pocket Wine Book.
Before making Italian wines my beloved topic at spaziovino.com, I was writing on fine wines for numerous publications in Russia, Ukraine, Kazakhstan, UK, USA and other countries. My articles appeared in Forbes, Decanter, Falstaff, The World of Fine Wine. I translated Nicolas Joly's From Sky to Earth into Russian, as well as co-authored several wine books in Russian and in English, including The Wine Opus (published by Dorling Kindersley).
As if writing wasn't enough, I was involved in consulting projects and spoke at international wine events thanks to my marketing background. I was a long-standing Russian correspondent for Meininger's Wine Business International. My consulting services were retained by Wine Intelligence and Vinitaly International. I was a speaker at a number of high-profile international events (the MW Symposium, FineWine, the London International Wine Fair, Vinitaly, etc.). I was a judge at a number of international wine competitions and continue to evaluate wines at select Italian events.