From a college professor to an award-winning wine writer
Dr. Elizabeth Smith is a college professor and wine club manager turned award-winning wine writer, freelance journalist as well as jury member. Elizabeth is a full-time wine and winemaker copywriter for Naked Wines USA, a customer-funded wine business.
Elizabeth holds a doctoral degree in community college education and Wine & Spirit Education Trust's Level 3 Advanced designation. She is the Communications Chair for Les Dames d'Escoffier International Sacramento Chapter, a unique organization of women leaders in food, beverage, agriculture, and hospitality and also a member of the Circle of Wine Writers.
Elizabeth's awards include the 2017 Born Digital Wine Award for Best Tourism Content with a Focus on Wine for her story, "Lodi: Beyond the Zinfandel." and the 2022 Koch Winery category in the annual Hungarian Wines Web Wine Writing Competition for "2018 Wetzer Furmint, Tokaj, Hungary."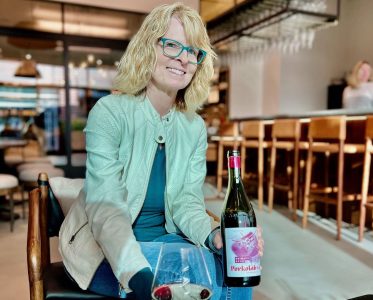 Love at first sip
In her winning article, Elizabeth tells with extraordinary trepidation about her first sip of the 2018 Wetzer Furmint, which she purchased at Compline, a local Hungarian wine shop and restaurant. She conducted a great interview with Peter Wetzer, the owner of the 2.5 hectares of flourishing vineyards spanning five terroirs. Thanks to him she discovered features of the local wine production process, which includes traditional practices like foot stomping and basket pressing. She also emphasized that indigenous yeast fermentation occurs in open-topped containers, then he ages the resulting wine on the lees in neutral Hungarian oak.
Discovering and exploring the region
As a result of the win she visited Hungary for the first time in August 2022. The first winery in her visiting list was Béres in Erdőbénye, which makes an impressive portfolio of dry, sweet, and sparkling wines from their 45 hectares of vineyards. There she tried the 2017 Béres Tokaj Lőcse Furmint Száraz (Dry), which is replete with flavors like spiced Golden Delicious apple, Asian pear, and lively citrus – plus a smidge of ginger and vanilla.
The second place was Erdőbénye was Préselő. Préselő makes around 9,000 bottles of wine, including dry, sweet, and sparkling. There she savored the 2019 Préselő Apukám Bora Furmint Száraz, a fresh and fruity – with flavors like juicy peach, pear, and citrus – plus a pinch of savory spice.
Then the expedition continues with Bodrog Borműhely Winery. The winery produces dry wines in a low-intervention style. She tased 2019 Bodrog Borműhely Furmint Lapis and described it as the full-bodied wine, yet also juicy thanks to its vibrant acidity. It reveals a mélange of flavors like white plum and peach alongside biscotti, a hint of honey, and a dash of salt. 
In the closing of the trip was Tokaj Nobilis, which farm 7 hectares of organic vineyards – Barakonyi and Csirke-mál – where they grow mostly Furmint and other varieties like Hárslevelű, Kövérszőlő, and Sarga Muskotály. Elizabeth characterized the 2017 Tokaj Nobilis Tokaji Pezsgő as a crisp apple and zesty citrus flavors, which meld with a whiff of freshly baked biscuit and subtle salinity in this delicately creamy sparkler. 
In January 2023, she continued her exploration of Tokaji Furmint and Tokaj Nobilis with a Tokaj Masterclass at Compline Wine Shop in Napa, California, with importer Eric Danch of Danch & Granger Selections, whose portfolio focuses on small-production Central and Eastern European wines.