Route des Salins 11430 Gruissan, France
+046 875 00 48
The Domaine de l'Évêque and touristic facilities around
Pierre Richard, the legendary actor, became an owner of the Domaine de l'Évêque, located in France, Aude and reshaped it in 1986. It is situated between two ponds and the sea in Gruissan and the territory widens over 50 ha. Outside activities, such as hiking and bicycling, are included for visitors: different species of birds, including the emblematic pink flamingo as well as archaeological remains dating back to the Roman era can be discovered by having a walk or cycling freely around the site. Tourists can also visit the Cathedral of Narbonne XIII century, Fontfroide Abbey XI century, Cité de Carcassonne, the Cathar castles as well as numerous vestiges of the Gallo-Roman era which are situated nearby.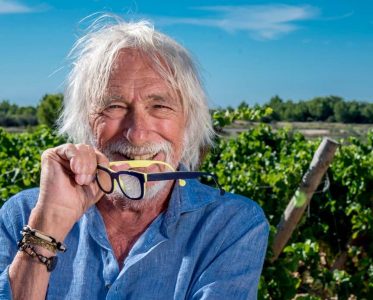 Wine offer of the Domaine de l'Évêque
The Domaine de l'Évêque offers its visitors a range of nine products divided into three categories: popular wines, successful wines, and author's wines. Located in the Corbieres appellation in the Languedoc-Roussillon, Château de l'Évêque makes an accent on growing red grape varieties, such as Syrah, Mourvedre, Grenache, Carignan, Cinsault or Marselan, but you can also find here Bourboulenc for white wine styles. Here are produced blends and single grape varieties wines, some of them are aged in oak barrels or in vats.
There are also 3 wine ranges: popular wines with the wine Démon in red, white, and rosé styles, the author's wines with Ma Cuvée Personnelle Syrah, Ma Cuvée Personnelle Mourvèdre and Blondus Ricardus and the Successful wines with Château de l'Évêque red and rosé and Cuvée Cardinal. All of them can be tasted in the cellar in an original and friendly setting in the image of its owner.
Pierre Richard's way of showing gratitude
The possibility to talk to Pierre Richard opens twice a week, in August, when the owner of the Domaine de l'Évêque personally meets visitors during the bottles' signature. It's his own way of appreciating his guests, customers, and wine-lovers. Besides, a special percentage discount is offered depending on the purchase.