Daria Kholodilina a.k.a. Dariko Mogzauri #95

Fall in love with Georgia
Daria Kholodilina is a Georgia-based wine tourism specialist, and a big friend and promoter of Georgian wine – with a WSET 2 certificate. She is regularly blogging about Georgian wine in her social media under the moniker Dariko Mogzauri (Dariko the Traveler in Georgian).
Being born in Ukraine, Daria moved to Georgia in 2013 because she fell in love with the country. 
She participated in developing the Georgian National Tourism Strategy 2015-2025. Her contributions were focused on marketing and promotion.
Daria is also a co-author of the definitive (and only) English language guidebook to Georgia's wine regions, "Georgia: A Guide to the Cradle of Wine." Published in 2017, this book received the Geoffrey Roberts Award and was highly praised by major international media outlets in the world of wine: The Guardian, jancisrobinson.com, World of Fine Wine, and others.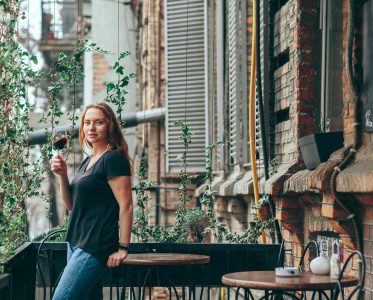 Professional development online
The pandemic of 2020 put the tourism business on hold and made Daria move to online where she continued working with events and wineries. She organized dozens of online tastings, and started a YouTube channel Drink Georgian, where Daria invites her followers to an exciting virtual journey around Georgia – the country, which is proud of its winemaking history. She shares her knowledge of unique Georgian wines, which are highly valued and respected by wine professionals, but are relatively unknown to the wider audience. Daria Kholodilina also participated in the Honest Wines project, supported by a variety of Georgian natural wine importers.
Key qualifications:
More than 7 years of professional experience in international tourism in Georgia, with a focus on wine and authentic foods

Well-known Instagram author of a blog about Georgian wine and traveling in English language 

Professional working experience as international consultant and entrepreneur/co-founder of start-ups in the gastronomy and hospitality sector

Co-author of

"Vinologue – Georgia: A Guide to the Cradle of Wine" (2017) 

Co-founder of "Trails and Wines", a tailor-made tours provider and proud holder of the Best Niche Tourism Award 2019 @ Georgian National Tourism Award

One of the 50 Most Daring Entrepreneurs of 2018 according to "Entrepreneur Magazine Georgia" – based on the activity of Trails and Wines
What is so special about Georgia?
In Georgia, there are multiple regions where wine is being made, and I see my mission in making them more approachable and understandable for the potential travelers to Georgia. Unfortunately, 90% of wine lovers coming to Georgia go to Kakheti only, which is pretty unfair, as it represents only two styles of Georgian wine making – bold ambers and big reds. Kvemo and Shida Kartli, Imereti, Racha and Lechkhumi, Meskheti, Guria and Adjara – they all deserve attention.
Kvemo Kartli is a dry, sunny, hilly area southeast of Tbilisi. Besides excellent Rkatsiteli, Tavkveri, Saperavi from there, there are also some endemic varieties such as Asuretuli Shavi that are also worth attention. Gastronomically it's a mix of Georgian and German – there used to be German colonies in several villages of the region.
Shida Kartli is also a dry and sunny area southwest of Tbilisi. There are several exceptional wineries and terroirs – starting from famous, big Chateau Mukhrani, and going to small love projects such as Iago's Winery, Tedzami, Wine Artisans, Nika Vacheishvili, Ori Marani… It is also home to Georgia's only PDO for sparkling wine – Ateni.
Imereti is hilly and humid. You will barely find a big vineyard there – the post-Soviet reality bore a thousand small land plots divided between thousands of people. So sometimes wineries have to operate in several terroirs not by their own wish.
Gastronomically, Imereti is one of the most fascinating Georgian regions. Many of the dishes you see in the Georgian restaurants globally would originate from there. Mostly those dishes are plant based, so you can imagine how good they are together with local wines – light, fruity, aromatic.
Racha and Lechkhumi are known as the home of Khvanchkara and Tvishi – semi-sweet wines that were crazily popular in post-Soviet countries. However, the real wine aficionados would rather hunt for the dry, light, salty Tsolikouri and leathery pink Orbeluri Ojaleshi from Lechkumi, or fruit-forward, velvety Aleksandrouli from Racha. Add some local cheese and jamon on the plate, and you'll feel the real taste of those regions.
Guria and Adjara are subtropical regions and are rather famous for growing tea than wine. However, vine is also growing there, the most prominent varieties being Chkhaveri, Jani, Skhilatubani and omnipresent Tsolikouri. Their acidity cuts through the local dishes, often based on fat cheese, really well!
Meskheti is one of the most mysterious wine regions of Georgia – first of all, not many Georgians know that many varieties, including Saperavi, the king of the reds, originate from there. Also due to the Ottoman past of the region, the vine growing was abandoned there for almost 300 years. The locals replanted the vines to the forest, for them to be discovered in early 2010s by Giorgi Natenadze, the local guy who is very passionate about his region's wine and gastronomic heritage. You can taste those wines made of grapes that grew on the trees, didn't know phylloxera and skipped communism, and believe me, it's an exciting experience.
Long story short – Georgian wine regions are diverse, attractive, have their own peculiarities and need to be discovered by the world.