Via XX Settembre, 81 – 14048 Montegrosso d'Asti AT
+39 335 1446923 d.eberle@libero.it
Daniele Eberle: Maestro of the Vine Symphony
If we go into the details of green operations in vineyards, which constitute a fundamental aspect underlying the quality of grapes, especially during the period of climate change, it is clear that the methods of plant management, formation of bunches are crucial. Training of the personnel in this field becomes a strategic assignment in terms of both quality of wines, and preservation of the environment in the vine-growing regions. Skilful playing on the balance between light and shadow, which depends on the variety of methods and the level of oenological education, is not for everyone. However, Daniele Eberle is a real virtuoso in this play. Among Piedmont winemakers, Maestro is a well-known consultant, agronomist, and enologist dedicated to Asti DOCG, and it should be emphasized that he rose to eminence in his educational endeavours. Daniele Eberle is an agronomist and consultant who is dedicated to the great heritage of Piedmont's viticultural diversity.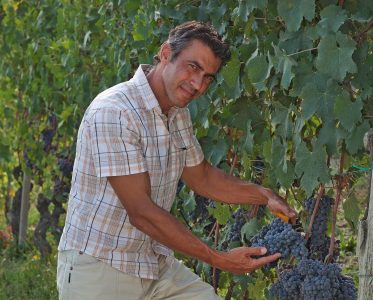 Life path – professional experience
Daniele studied in Milan, specializing in viticulture, but he gained a lot of practical experience in Monferrato, where he lived with his grandmother since childhood. From the age of 16, he started working in the vineyard and in the cellar. Daniele continued his activities in the wine field while working at enterprises and wineries in Piedmont, Marche, and Lombardy. Passion for oenology had led him to the vineyards of the United States, but after returning to Italy, Daniele settled in Piedmont. Here, he started his wine consulting activities and consultations.
Mission and range of activities
Daniele Eberle shares his know-how, develops supply chain projects for wine production, cooperates with wineries of all sizes, cooperatives, groups of wineries, and consortia for the protection of names and territories. He advises winemakers, starting with finding plots for vineyards, choosing vine varieties, applying preventive measures to grow healthy plants, building sustainable production, etc. Daniele keeps a blog where he passes on his own progressive ideas, gives advice, creates awareness about new educational programs, and shares experience related to successfully implemented projects.
Daniele Eberle has been collaborating a lot with universities and scientific research institutes in the Northern Italy's wine sector, in particular with l'Istituto per l'Enologia di Asti; he participated as a coordinator in research projects in the field of viticulture in Piedmont Region, is the author of 20 technical and informative publications, and he has been a speaker at numerous seminars on grape growing methods.