Stradale Alessandria, 90 15011 Acqui Terme (AL)
+39 0144 371600 info@cuvage.com
Cuvage. Art inside and on the bottle
Cuvage winery was founded in Acqui Terme in 2011, in the province of Alessandria. This territory is world famous for Italian sparkling wine. The two key elements of making the sparkling wine at Cuvage Winery are cuvée and perlage thus their liaison making the name of the winery "Cuvage". So the Cuvage was founded to emphasize a unique terroir and to honor the cradle of premium Italian sparkling wines. The Winery interprets the ancient sparkling wine tradition born in Piedmont in 1895 in a modern key, and expresses its excellence in a refined balance between history, innovation and technology, giving life to the two product lines Cuvage Classic Method and the Martinotti Method Acquesi. 
The winery developed its Cuvage des Artistes project, a project that combines the signature wine Cuvage with art and charity where the profits go to medical research. The artworks could be seen on the website and also are decorating the bottles and labels.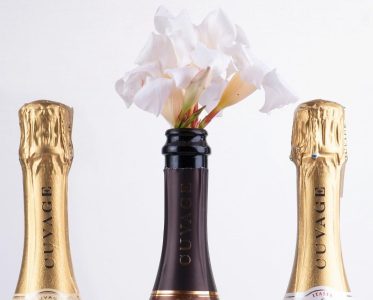 The style and elegance
The style and elegance of Cuvage sparkling wines come from grapes from vineyards distributed among the hills with the highest wine-growing vocation of the Piedmont region. An area that extends from Monferrato to the Langhe in which clayey, ferrous, marl and white calcareous rocks alternate which, due to their position, type and exposure, prove to be suitable for the cultivation of highly specialized vineyards of native varieties such as Nebbiolo, Cortese, Moscato and Brachetto, together with the international Pinot Noir and Chardonnay.
ASTI Spumante "Acquesi" - the best aromatic sparkling wine in the world
As it was already noted in order to reach its objectives, the winery has followed an uncompromising policy which focuses solely on Metodo Classico and Metodo Martinotti production and the valorization of local varieties. And one of the stars of the wide range of sparkling wines produced by Cuvage is ASTI Spumante "Acquesi" wine with worldwide recognition and the impressive design. The modernist design of the bottle is a symbol of the elegance and carelessness. It is very important to note, that Cuvage Asti DOCG "Acquesi", ranked number one in the world in the Champagne & Sparkling Wine World Championships in the aromatic sparkling wine category, bringing greater prestige to the Piedmontese art of sparkling winemaking and conquering the stage in London.  Cuvage Asti DOCG "Acquesi" is a romantic and sweet white with a straw yellow color, the nose is fresh and intriguing, with hints of white flowers, peaches and citrus peel. Excellent to taste accompanied with dry pastries, tarts or stuffed peaches, it is the dessert wine par excellence.