Csányi Pincészet Zrt #103
Hungary, Villányi, 7773, Ady Fasor 2
+367 249 21 41 villány@csanyipince.hu
Fine wines cannot be made without devotion
These are the words of Zsigmond Teleki, the founder of Csányi Winery and since 1881 we keep up with this motto and are proud to use Teleki as our brand name.
The centre of our winery is located in the heart of Villány. Its impressive, modern building completely fits in the surrounding landscape. The processing plant is equipped with the most modern machinery, while our breathtakingly long cellar labyrinth is a silent shelter for our maturing wines and and our treasures of old vintages.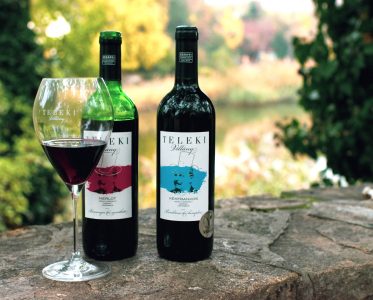 Inspiration Bottled
Our collection of wines includes red, white and rose wines, however the red wines still remain our main focus. Csányi Winery has few selections to present:
Teleki Gastro: a selection of international grape varieties of our acknowledged Teleki range, aimed to the HoReCa sector.
Teleki Selection represents three wines from the best vintages: Teleki Selection Villányi Merlot, Kékfrankos, Cabernet Sauvignon and Petit Verdot.
Wines of premium quality
Chateau Teleki Villány are wines of premium quality and were made in honour of the winery founder-Zsigmond Teleki and is represented by such wines as Chateau Teleki Villányi Alex Cuvée, Merlot, Cabernet Sauvignon, Cabernet Franc and Kékfrankos.
Kővilla Selection. Kővilla is embraced by our wines on the southern slopes of Szársomlyó-Kopár, witnessing the most important events of the wine region. The wines from this selection: Kövilla Selection Villányi Cuvée, Cabernet Sauvignon and Franc keep getting high rewards from international wine competitions. Recently the new wine has been added to this collection – Kövilla Selection Villányi Syrah 2017 and has already brought its first golden medal from The Berliner Wine Trophy competition.
The Teleki Tradícíó 1881 Selection, includes our delicious champagne – Teleki Tradíció 1881 Villányi Pinot Noir Rosé Brut 2018 made by the methode traditionelle and Teleki Tradíció 1881 Super premium Villányi Franc 2017.
Csányi Selection – this is premium selection wines from the best vintages showing the unique character of our winemaking style and includes the star of our winery Csányi Selection Villányi Vesper 2017, which is a new member of our family. It is a premium quality, individually packaged, outstanding representative of the wine region. After a careful selection of barrels the best lots of the 2017 vintage were blended. The perfect balance of Cabernet Sauvignon, Merlot and Kékfrankos is felt in every single sip taken. The wine has a deep ruby color, richly spiced, and the bouquet reveals the flavors of forest berries and plums. A full bodied, complex and velvety wine, with a taste of sweet spices, dark chocolate notes along with a smooth acidity and a long finish with notes of plums. This wine is a true star of our winery and has made its first appearance at the AWC Vienna 2021 by winning the golden medal.
Wine lovers and enthusiasts are slowly starting to discover Hungarian wines and we are pleased to be a part of it, showing our pride –Teleki brand.