MD-2084, rep. Moldova, or. Cricova, str. Petru Ungureanu 1
+373 226 04 027
The National Cultural Heritage
"Cricova" is a unique underground complex that got renowned throughout the world for both its huge labyrinths and its excellent wines. "Cricova" is the first Moldovan company that manufactures sparkling wine by the method of the famous monk Dom Pierre Perignon – "Méthode Traditionelle". Furthermore, "Cricova" manufactures sparkling wines obtained by secondary fermentation in stainless steel reservoirs, and the resulting sparkling wine possesses a full fruity taste and freshness. This method enables the preservation of all qualities of a re-fermented wine. 
The "Cricova" Associated Wine Factory has asserted itself due to its continuous innovation trend. The company applies the world's most sophisticated technologies in winemaking, possesses the art of manufacturing diverse wines and meets the finest tastes and requirements of the market. "Cricova" is the most valuable brand in Moldova, renowned far beyond its borders. It is the first and only company awarded the highest state distinction, the Order of the Republic. By virtue of the Law of the Parliament of the Republic of Moldova, the "Cricova" Associated Wine Factory has been declared the National Cultural Heritage.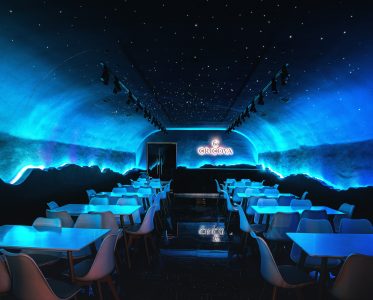 Walking around the underground City
History of "Cricova" Winery began in 1952, when for the first time in the Republic of Moldova was produced sparkling wine using the classical French method "Methode Champenoise" in the former underground galleries of the limestone mine.  The underground city is situated at a depth of up to 100 m underground and over 120 km of underground streets with independent infrastructure. The streets are named according to the wines that are stored in barrels: "Cabernet", "Chardonnay", "Sauvignon", "Aligote", "Feteasca". In the underground city is a permanent temperature of +12… +14 °C all over the year, which allows the qualitative maturation of wines. Cricova underground City represents the National-Cultural Heritage of the Republic of Moldova, with underground tasting rooms, wine museum, underground theater, and a collection of high-quality wines with over 1.000.000 bottles of rare renowned wines gathered from all over the world.
Quality, tradition, worldwide recognition
"Cricova" Winery always drew the attention of wine tourism lovers and guests who are visiting the Republic of Moldova, becoming the business card of the country. "Cricova" Winery has been visited over the years by famous people, for example: Iurie Gagarin, Lara Fabian, Angela Merkel, John Kerry, and others. Many of these people keep their personal collections in the Golden Collection of "Cricova" Winery.
"Cricova" Winery sells over 10,000 bottles annually in over 30 countries worldwide. The highest appreciation of quality is represented by the over 500 medals won at world competitions over the years.
"Cricova" Winery, the first and the biggest producer of sparkling wines according to "Methode Traditionelle" from the Republic of Moldova, shows you the most awarded sparkling wine for 2020.