134 Quai de Bacalan, 33300 Bordeaux, France
+335 561 62 020
Cultural heritage of wine
Located in Bordeaux, the Cité du Vin is a cultural place, unique in the world, where wine is presented in its cultural, civilisational, heritage and universal dimensions. The Cité du Vin showcases vineyards from around the world through a permanent tour, temporary exhibitions, wine tasting workshops and numerous events. Managed and developed by the Foundation for Wine Culture and Civilisations (recognised as serving the public good) the Cité du Vin's aim is to safeguard wine heritage, to display and enhance its influence on past and present societies. Its resources come from the revenue of the Cité du Vin and private donations from patrons.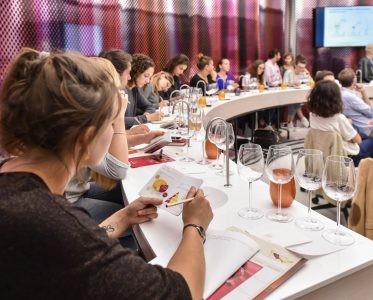 Mission of the Foundation for wine culture and civilisations
The Foundation for wine culture and civilisations was created to protect, promote and share the countless cultural, historic and symbolic aspects of wine. Its aim is to defend, highlight and pass on the cultural and intellectual dimension of wine. The Foundation is attempting to make this universal, living heritage accessible to as many people as possible by offering an innovative new perspective.
Based on these key tasks, the Foundation for wine culture and civilisations was named a public interest organisation on 11 December 2014. The Foundation is responsible for operating and developing the Cité du Vin – world's first cultural site devoted to exploring the aspects of wine's heritage.
Temporary exhibition & varied cultural activities all year long
Each spring, the Foundation for Wine Culture and Civilisations works with a guest curator to organise a major art exhibition around a specific theme related to wine. Several events are offered to visitors as part of the cultural programme (events, concerts, screenings, meetings and debates…). Cultural interpretation activities (sensory experiences leading to original wine tastings in a friendly atmosphere) allow visitors to go further in their discovery of the culture and civilisations of wine.
The Cité du Vin is creating the unmissable event of spring 2022 in Bordeaux, devoting a major exhibition to one of the most important artists of the 20th century: Pablo Picasso. Picasso, the effervescence of shapes, running from 15 April to 28 August 2022, explores the place of wine and popular spirits in the work of Pablo Picasso, through a wide variety of media (paintings, drawings, ceramics, films, etc.). The Foundation for Wine Culture and Civilisations has invited historian and art critic Stéphane Guégan, as scientific curator, to devise an exhibition for a general audience that is both original and ambitious. Bringing together more than eighty works, thanks in particular to the exceptional participation of the Musée national Picasso-Paris and the Museu Picasso de Barcelona, the exhibition sheds new light on Pablo Picasso's works and reveals the effervescent creativity that inspired him throughout his life.