134 Quai de Bacalan, 33300 Bordeaux, France
+335 561 62 020

Cultural heritage of wine
Located in Bordeaux, the Cité du Vin is a cultural place, unique in the world, where wine is presented in its cultural, civilisational, heritage and universal dimensions. The Cité du Vin showcases vineyards from around the world through a permanent tour exhibition, temporary exhibitions, wine tasting workshops and numerous events.
Nearly 7 years after its opening, the Cité du Vin is to renew a major part of its cultural offer in 2023, with an entirely re-thought Permanent Exhibition (change of content, equipment and staging) and 2 new tasting experiences (Bordeaux 360° workshop and Immersive tasting tours).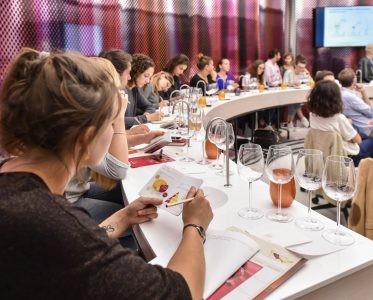 Mission of the Foundation for wine culture and civilisations
Managed and developed by the Foundation for Wine Culture and Civilisations (recognised as serving the public good) the Cité du Vin's aim is to safeguard wine heritage, to display and enhance its influence on past and present societies. Its resources come from the revenue of the Cité du Vin and private donations from patrons. The Foundation is attempting to make this universal, living heritage accessible to as many people as possible by offering an innovative new perspective.
Embark on an interactive and sensory experience
The Cité du Vin offers its visitors different activities and experiences:
Vineyards of the world
Terroirs of the world
The vine-grower's year
Six wine families
The Gallery of civilisations
Wine trend alley
The buffet of the five senses
The epic tale of Bordeaux, etc.