134 Quai de Bacalan, 33300 Bordeaux, France
+335 561 62 020
In the heart of Bordeaux
Located in Bordeaux, the Cité du Vin is a cultural place, unique in the world, where wine is presented in its cultural, civilisational, heritage and universal dimensions. The Cité du Vin showcases vineyards from around the world through a permanent tour, temporary exhibitions, wine tasting workshops and numerous events. The Cité du Vin is a place accessible to the greatest number and open to all.
Newcomers or connoisseurs, amateurs or not, professionals, families and young public, people with disabilities, international tourists (1,3 million visitors from 180 nationalities have been welcomed since the opening)… immediate boarding for a spectacular trip around the world, through the ages, in all cultures!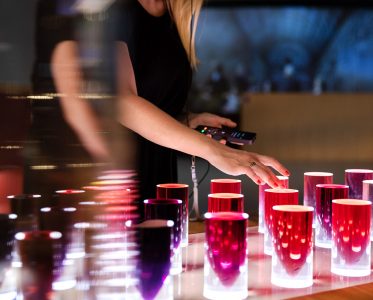 The building: audacious contemporary architecture
Audacious and emblematic, the architecture of the Cité du Vin is inspired by the river and wine and complements the architectural heritage of Bordeaux. Truly evocative of the soul of wine and the liquid element ("a seamless, immaterial and sensual roundness", says XTU architects), the building recalls wine that swirls in the glass, the coiled shape of the vine or the waves of the Garonne, while its golden reflections echo the white stones of Bordeaux facades and the reflections of the river.
The architecture and staging of the Cité du Vin are the result of a close collaboration between two agencies: the Paris architectural agency XTU architects led by Anouk Legendre and Nicolas Demazières and the English staging agency Casson Mann.
The Permanent exhibition, the heart of the Cité du Vin
The heart of the experience and the offer of the Cité du Vin, the Permanent exhibition (located on the 2nd floor of the building) covers more than 3000 m² and includes 19 different thematic areas to explore freely, without the need to visit them in order.
Thanks to digital and interactive technologies, the Permanent exhibition traces, in an innovative way, the epic story of wine culture, which has inspired people and shaped their lives as well as their territory for millennia.
Located on the 8th floor of the Cité du Vin, the Belvedere is 35 metres high. The high point of the visit, the Belvedere, is the unique opportunity to admire Bordeaux and its surroundings while enjoying a glass of wine from a vineyard of the world. Visitors choose from a selection of 15 world wines, regularly changing, and from partnerships with organisations and associations from around fifty wine regions around the world. The youngest enjoy a glass of organic grape juice.