Village Mukhrani, Mtskheta 3309, Georgia
Château Mukhrani - an iconic part of Georgian history
Château Mukhrani represents an iconic part of Georgian history, featuring as an ancestral home of Price Ivane Mukhranbatoni, a renowned member of the Georgian Royal family Bagrationi. Built in the XIX century, the palace and surrounding gardens were designed by French architects. The construction of the palace took 12 years to complete. Both the palace and grounds captured visitor's attention. It became a cultural and political center for the Georgian and foreign elite, a focal point of European and International influence. Prince Ivane Mukhranbatoni hosted many guests, including public figures, writers, poets, and artists.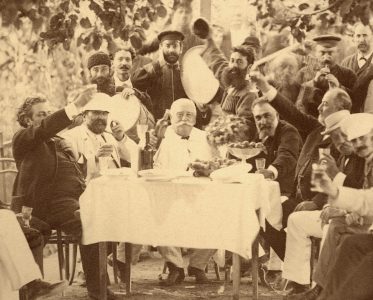 Dynamic wine and hospitality business
Château Mukhrani's mission is to develop a dynamic wine and hospitality business on the foundation of the Georgian Royal family estate, a center of history, winemaking and culture. Our company strives to warrant the highest standards of execution of all our products and services, extending the gracious and royal hospitality along with our core values – Nobility, Excellence and Authenticity to each employee, guest and customer.
Organic viticulture
Organic viticulture – is the philosophy to reveal the true potential of the terroir. The exclusion of herbicides, toxic insecticides, synthetic fertilizers, and systemic pesticides, contributes to recreating "alive" vineyards and allows us to express the original and authentic personality of soil and the grapes that are growing on it. Therefore, we consider organic viticulture as one of our key quality drivers and we believe it is the future to keep our products and nature safe. 100% of our vineyards are under organic viticulture and certified by the international organic label of CAUCASUS-CERT.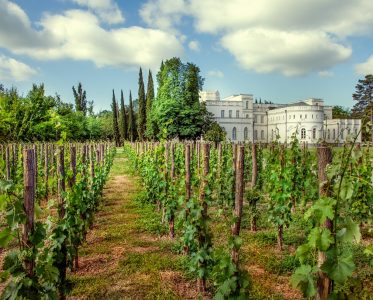 Magnificent destination
Château Mukhrani is located in the beautiful village Mukhrani 35 minutes drive from the capital Tbilisi.
"There is so much to experience and discover in all seasons at Château Mukhrani and memories made here will last a lifetime!"
Discover main attractions for tourists
Ultra-Modern Winery – transitioning to organic viticulture and natural fermentation are steps in our quest for excellence, as are the careful harvesting and sorting techniques we employ. Nowadays, Château Mukhrani has won 150+ awards on the top international wine competitions. In the winery our finest wines are crafted by combining centuries-old Georgian traditions and international modern technologies
Traditional wine making cellar (Marani) – Qvevri winemaking
Vineyards – Château Mukhrani cultivates 102 hectares of Georgian and international grapes and practices organic viticulture, concentrating more on endemic and unique grape varieties such as Goruli Mtsvane, Chinuri, Tavkveri, Shavkapito
Underground cellars – Dating from the XIX century
Palace – XIX century renewed palace – the palace interior design in a modern context is a magnificent work of internationally acclaimed designer Juan Pablo Molyneux, who creates worldwide famous luxurious interiors. His interior design refers to the past with a twist of the unexpected, combining fantasy and centuries old techniques, to evoke the atmosphere of the history
Extraordinary hospitality indoor/outdoor locations
Horse stable – XIX century horse stable, renovated in 2010th.