1 cours de Verdun, 33460 Margaux
+33 5 57 88 70 66
Quality wines with respect to the Medoc tradition
Château Lascombes, 2nd Classed Growth classified in 1855, is one of the largest estates of the Medoc, which has about 40 plots at its disposal. The total vineyard area is 130 ha with a large diversity of soils: 120 ha located in Margaux Appellation and 10 ha in Haut-Médoc Appellation. The estate bears the name of its first owner, Chevalier de Lascombes, who was born in 1625. French insurance company MACSF, owner of Château Lascombes since 2011, is committed to do quality wines and to respect the Medoc tradition with the help of Dominique Befve, the General Manager since 2001 and with Michel Rolland, the oenologist consultant.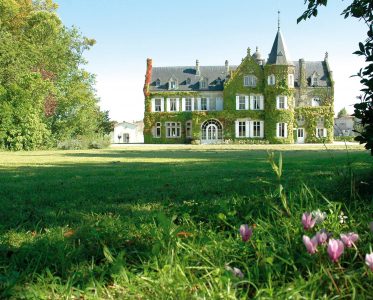 Trio of Château Lascombes: Merlot, Cabernet Sauvignon and Petit Verdot
The estate grows three main grape varieties with Merlot dominating in the vineyard: 50% of Merlot, 45% of Cabernet Sauvignon and 5% of Petit Verdot. The age of the vines is 35 years. Lascombes produces elegant, well-balanced red wines with blackcurrant notes and a good concentration and finesse that gain additional complexity and depth with aging. There are three wines in the portfolio of Château Lascombes. They are Château Lascombes, Chevalier de Lascombes and Haut Médoc.
Full-bodied wines with a deep tannic finish
A conservative winemaking method is used: removal of side shoots and foliage, manual harvesting and sorting of grapes; light pressing and cooling by injection method (fermentation lasts a month at a temperature of 8 ° C). Further: maceration – at 30°C, alcoholic fermentation – at 28°C. Annual renewal of French barrels – by 80%. Aging on the lees in barrels lasts four months. All wines of Château Lascombes (100%), produced since 2001, are created using the Oxoline system, which rotates wine barrels at a certain interval. In this way the estate manages to produce full-bodied wines with a deep tannic finish.
Château Lascombes is open to group and individual visits for tourists all over the world!