Château Kurin #4
Ukraine
Kherson region, Kherson city
Stepanivka
kyrin2020@gmail.com
Château Kurin
The family winery from Kherson Region – Chateau Kurin – is our nominee in the nomination "The Visiting card of the Country" in the category "Must Visit".
But, in fact, despite their ambitions, the winemakers were too modest this time: they could be confidently nominated also in the category supporting sustainable development. After all, Château Kurin has been staying on the track towards quality of wines, environmental values, ​​and sustainable development for almost 10 years.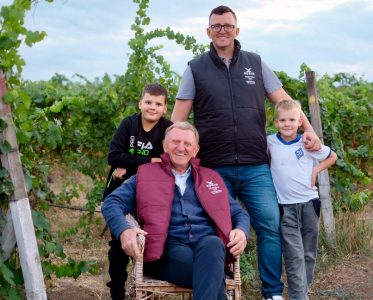 The family winery
Château Kurin is a real winery in ideal terms: it is a family winery where the Khalupenko family lives and works, putting their hearts and philosophy into each bottle of wine produced by them.
The winery was founded by Nikolay Khalupenko, and his son Denis also decided to continue his father's business: he gained a master's degree in winemaking. Now, they work together with his wife Oksana, who is an agronomist by education.
The winery welcomes guests and does a lot to make these visits exciting and memorable. Hotel, wine cellar, tasting room, and special location for photo shoots are available.
On the way to great vintages
Now Château Kurin offers a range of more than 20 wines for tastings. In addition, Denis conducts commented tastings, lectures, and master classes developing the wine culture in Ukraine. Château Kurin has been cooperating with educational institutions, providing its facilities for the students' practical training, seminars, and trainings for oenologists. At the current stage, the younger generation of winemakers is eager to bring Château Kurin up to the level of great vintages. Despite such a seemingly cosmic dream, this small winery is a kind of the portal for being transported into the boundless universe of wine. At least for a couple of hours).