3909 Mád, Rákóczi utca 81–83.
sales@bartapince.com
Royal Terraces
On your way from Szerencs to Mád the spectacular view of one of the most imposing and steepest vineyards on King's hill (Király-hegy) is bound to catch your attention: Old King vineyard (Öreg Király-dűlő). Not only its exceptional position, but also the continually constructed terraces built stone by stone over the centuries make it stand out in the beautiful landscape. Vines were already cultivated on this land way back in the 13th century, and one of the most highly prized Tokaji wines originated from here, a nectar that captured the powerful Rákóczi family too. However, as for everything unique, suffering is involved too: the stony ground and steep slopes make this land extremely difficult to tend.
The grapes grown here were always of special quality but, as they did not satisfy the needs of quantity-driven grape production, this vineyard was abandoned after World War II, and was gradually reclaimed by the black locust forest. Most of the area was purchased by the Barta family in 2003, and then began the replanting that continues to this day. The Barta Winery owns 17-hectare south-, southwest-facing, mostly fallow, plot in the Kővágó vineyard, 3.5 hectares of which was brought back to production in 2017.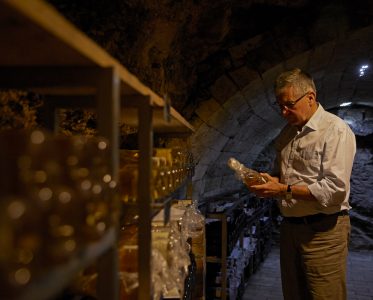 Philosophy
We strive to preserve as best as possible both the appearance and soils of these exceptional stretches of land for future generations. During vine cultivation we use organic methods and make our wines with as little interference as possible and maximum cleanliness. We obtained certification as an organic grower in 2018, which means that a 'certified organic wine logo' now adorns our labels – a piece of 'written evidence' of our commitment to quality and sustainability.
What can one experience here?
Wine tasting:
You cannot make the same wine twice. It is a living matter that bears the imprint of the vintage, the grape varieties and the winemaking philosophy.
Vineyard walk:
Along with wine tastings, we also offer guided vineyard walks to give you an insight into the history and characteristics of the Öreg Király Vineyard, as well as local grape varieties and vine training methods. You will be driven in the guide's car, or alternatively, you may drive your own car, to the bottom of the vineyard, and then we take a walk from there to the stone-walled terraces. The walk takes a total of 45 minutes.
Ride & Picnic:
The picnic hamper includes two bottles of Barta Tokaji wine, artisanal salami and sausage slices; cow's milk cheese from the Zemplén Cheese Dairy, jams and marmalades from the Ízes Örömest Jamery, seasonal vegetables, as well as some rustic bread.