1st location: 8 Winkler Road, Sidney, NY 13838 2nd location: 34 Howell Street, Walton, NY 13856
At Awestruck Ciders, their name is their mission - they want you to be, well, AWESTRUCK!
Awestruck Ciders is fanatical about crafting transcendent, awe-inspiring liquid. That's why they put it right on their labels!
The Awestruck team believes in good work, good times and good cider. They are devoted to crafting complex, delicious hard ciders by blending fresh-pressed New York State apples with natural herbs, spices, and a dash of ingenuity. At Awestruck they focus on innovation and creativity in crafting ciders that are more than just a drink – they strive to create a flavor experience!
Co-Founders Casey Vitti and Patti Wilcox spent years as vagabond globe-trotters before Awestruck was even a spark of an idea. On these journeys they discovered a great deal: the profound delightfulness of fermented fruit juices; the fine art of sleeping in hammocks; and that human beings are at their core, mostly very good. In tasting different regional drinks and foods they also learned that what really makes something good is how it makes you feel. This sparked their mission to create a product that would captivate people, stop them in their tracks and show them a glimpse of fun and discovery. With each and every cider they make they aim to do just that.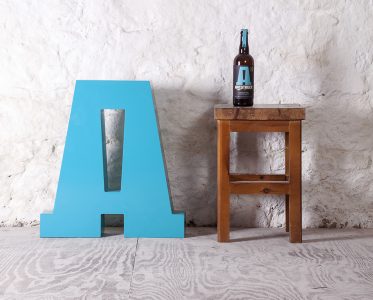 An Authentically New York Product
All Awestruck ciders are made from 100% fresh pressed New York State apple juice – straight from the orchard, never from concentrate!  They use a special blend of the Empire State's finest eating apples – MacIntosh, Mutsu, Cortland, Golden Delicious, Fuji, Gala, Honeycrisp, 20 Ouncers, Braeburn, Winesap, Idared, Cameo, Lady, and more! This is fermented with a unique blend of champagne yeasts, white wine yeasts, and cider yeasts to enhance specific traits from their apple selection. Certain ciders are spiced and flavored with all-natural and unique ingredients to provide layers of sensation in every glass!
Visit the Awestruck Taprooms!
Visitors are welcome in the cidery's two locations! The taprooms function as innovation hubs, where each week they release three new flavors for guests to taste and share their feedback on! Guests can also enjoy unique foods each night, prepared by a rotating selection of local chefs, ranging from locally-sourced flatbread pizzas to grass-fed angus beef burgers, and freshly handmade mozzarella cheese. 
Their first taproom is located within their main production facility in Sidney, NY.   Guests are invited to sit in a cozy curated space adjacent to the production floor, where they can seek all of the cidery's equipment.  Or, they can sit aboard the 1973 Blue Bird School bus, situated across from the bar!
In September 2021, they launched their second location – Awestruck MIll – in Walton, NY.  They Mill offers a local marketplace atmosphere, with bi-weekly farmer's markets and a retail shop with all of Awestruck's ciders along with a selection of local craft beers, wines, and spirits.