Vibrant wines from the land of sunshine
Austria's vibrant wine scene has earned a worldwide reputation for quality and innovation, and is paired wonderfully with Austrian cuisine. All of its wine regions are incredibly easy to visit, and it boasts extensive wine-growing terrain. Austria's picturesque wine-growing regions are extensive and cover over 46,515 hectares (114,941 acres). Vienna boasts over 700 hectares (1,730 acres) of vineyards alone, making it the world's only major wine-growing capital. Austria looks back on a long wine-growing tradition, and for over 2,000 years wine has formed an integral part of Austrian culture.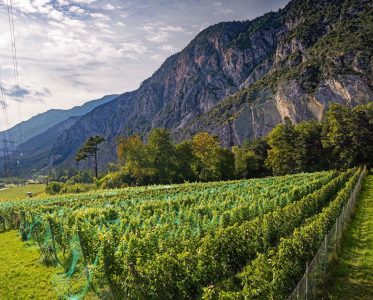 Austria: long wine-growing tradition
Traces of viticulture can still be found today amidst the nation's medieval villages, baroque monasteries, Roman cellars, and stately castles. To this day, Austria's wines enjoy great international acclaim, both amongst wine experts and wine lovers. And whilst the wine producers very much look back on the nation's heritage to shape their brew, they also embrace the most modern practices, which mean that the outstanding wines have gained great international acclaim on the world stage.
Austria is a relaxed country
Austria is a relaxed country that offers an unparalleled quality of life. This is one of the key reasons why Austria has become a globally renowned destination for tourism. It's not just in summertime that the wine country of Austria entices folks to come visit – the wine producing regions work their charming ways throughout the entire year. In spring, more than 1000 cellar lanes in Niederösterreich (Lower Austria) get underway with their merry activities, pampering guests with the new vintage wines, regionally typical culinary treats and a widely diversified programme based in various expressions of Austrian culture. Focal points here in the nation's largest Qualitätswein region – where the daily routine, architecture and landscape have been shaped by hundreds of years of winegrowing traditions – include the Wachau valley (a UNESCO world heritage site), the Weinviertel with its countless romantic cellar lanes (Kellergassen) – affectionately called "villages without chimneys" –, the ancient Roman archaeological discoveries of Carnuntum, the "world of wine" experience at the Loisium in Langenlois, the event series Literature & Wine – and somewhat later in the year the Thermenregion's "longest bar in the world".
Steiermark (the "green heart of Austria") is also well equipped for year-round comfort and accessibility in wine tourism. The vintage presentations during the first warmer days of the year have developed into a significant magnet for visitors, inviting guests to spend an extended weekend tasting the freshly bottled, typically lively, fruit-forward Styrian wines, while the eyes and soul refresh themselves on the reawakening landscape of vineyards spreading themselves out over gently rolling hills. Quite capable where the culinary arts are concerned, the Styrians tempt their guests in every season with delicious tastes of the local heritage like the Styrian Volcanic Country Ham or pumpkin seed oil. And especially in autumn it is particularly pleasant to combine a visit to Steiermark's wine country with a relaxing and soothing visit to one of its countless thermal springs.
When the days are the longest and nights the shortest – that is when Burgenland plays a hot hand: extended bicycle touring or relaxing days spent swimming in Europe's westernmost steppe lake, Lake Neusiedl, promise a renewal of energy in the summer warmth. In the evenings, nearby municipalities provide an enjoyable and convivial retreat with the traditional cuisine of Burgenland and an excellent selection of wines – red, white, and sweet. And a bit further south, Mittelburgenland (known locally as "Blaufränkischland") and beyond it the Eisenberg offer vinous treats of magnificent variety and satisfying flavour, particularly for lovers of red wines.
And Vienna? Of all the world's capital cities, Vienna remains unique as the only one with a significant presence of viticulture within the city limits, a presence which has also engendered its living tradition of the Heurigen, the city's inviting and pleasant wine taverns. The wines of Austria's charming and history-laden capital combine in a unique and distinctive fashion with the famous Viennese cuisine, putting the crown on any sojourn in the Danubian metropolis.
The fascinating world of Austrian wines has opened its doors wide, avidly awaiting the arrival of visitors.