artyom_mkrtchyan@vini.am
+374 55 250891
Experienced sommelier - promoter of Armenia and its wine
Artyom Mkrtchyan is a member of the "East-European Association of Sommeliers and Experts", graduate of the "Mozart Wine House" Sommelier Academy, lecturing international wine service and etiquette, sommelier with more than 7 years of experience. Artyom is Founder of the wine boutique "Decant wine shop & tasting room" – specialising in the Armenian wines and specialties, one of the largest and most diverse collection of wines in Armenia, wine literature, vintage positions, as well as a large tasting room for all kinds of tastings and wine events. He also developed tailored wine and gastro tours in Armenia (various wineries, wine regions, grape varieties and wine styles, unique regional gastronomy, national dishes in modern and original interpretations).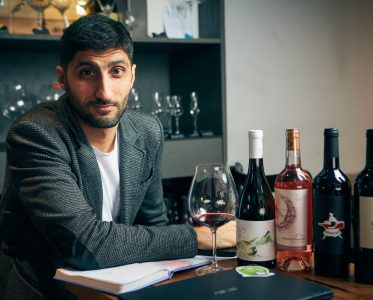 VINI – Armenian Wine Guide
Artyom founded Non-Profit Organisation "VINI – Armenian Wine Guide" engaged in the development and promotion of Armenian wines. With the slogan "Every Armenian wine", Vini's ultimate mission is to familiarize consumers with every single wine and every wine producer irrespective of its size and capacities in Armenia in a professional manner, taking into account international experience and the cultural spirit of the country.
Projects Artyom is involved in:
Chef-sommelier of the restaurant holding "Highline" – restaurant family (premium restaurants of various concept with large wine lists including Armenian and international wines);

Compiler of more than 25 specialised and tailored wine lists for various concept of restaurants and cafés in Armenia;

Author and co-author of more than 30 professional articles on viticulture and winemaking in Armenia, in particular, wineries;

Organisation and holding of various master classes and enogastronomic dinners, interesting projects with the representatives of HoReCa in Armenia;

Organisation and holding of various tastings, enogastronomic dinners and master classes on Armenian and international cuisine;

Organisation and delivery of professional lectures and tastings on Armenian viticulture and winemaking for sommeliers and wine experts, as well as for wine lovers;

Development of new products – wine tours for wineries to advance wine tourism and increase sales;

Development of descriptions on sensorial evaluation of wines (organoleptic, aroma and taste), creation of unique wine and food pairings for Armenian cuisine, professional description of dishes.