Forming a new visual perception of the Ukrainian winemaking
My name is Arsen Fedosenko, I am a photographer. I want the world to fall in love with Ukrainian wine through art photography.
I have spent the last five years researching the wine theme in the photo project called "New History of Ukrainian Wine''. To do this, I travel, meet winemakers who are enthusiastic about the case, take art photos, exhibit them at exhibitions, publish on the Internet and write articles. In frames of the project, I have visited more than thirty wineries all over Ukraine.
The fact is that winemaking in Ukraine is a long tradition, people were doing it in industrial volumes not only in the southern but also in the central regions. In particular, Podillya and Vinnytsia were historical vineyards until the end of the twentieth century. The main goal of my project is to restore viticulture throughout Ukraine. For me, viticulture and winemaking is a way to change the paradigm of the consumer to the paradigm of the creator. Grapes have a magical ability to fill places with new meaning, to be a stimulus for the economy and tourism. Wine is a product of the area, so it is always unique. According to Vlad Chopak, a winemaker from Transcarpathia, viticulture is a long-term relationship with the land. The owner of a garden or vineyard always takes care of the land, he thinks for decades. This is the key to sustainability and cultural development.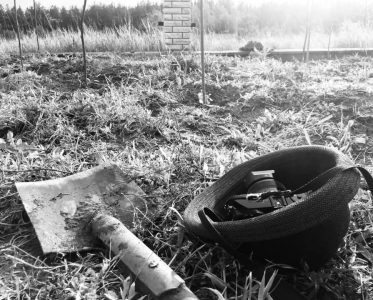 New History of the Ukrainian Wine
I have been doing art and advertising photography for 25 years. When I found out that there is a vacuum of information and images of domestic grapes and winemaking, I wanted to fix the situation. Now I know that there are such artists in the world and they make very creative pictures. I became one of them, but with my own creative approach. No matter what, photography is a document, and I try to convey to the audience the real beauty, not fictional.
I want people to believe my photos
I want people to believe my photos, to feel the peculiarity of Ukrainian wines. Our wines are not like Tuscan, Priorat or Bordeaux wines. But should they be like that?.. To understand the topic, I went through sommelier school, founded my own vineyard and for the third year I am learning how to make wine (frankly – I was very fond of it …). Over time, my creative focus from leaves and berries shifted to the winegrower and winemaker, because their work is decisive in the quality of wine. I realized that vines and berries are similar everywhere, but what is really different is the characters and history of winemakers. They are special, strong people with life experience and a vision of perfection, which they are trying to pass on to their wine, and it succeeds!
To drink Ukrainian
Ukrainian wine should be known all over the world, not only as a product but also as a cultural phenomenon. It is already being formed, I see it and know how to convey it to the world. In recent years, I have held six photo exhibitions at thematic festivals and forums, helping winemakers with design and market entry strategies (my experience as an advertiser comes in handy).
My goal is to create a new image of Ukrainian wine. The original modern image is an integral part of the country's export strategy, as well as the development of Ukrainian wine culture. My photos illustrate the sites www.ukr-wine , wineries "Beikush", "Kurin", "Villa Lamash", "Bohdan's winery", "Slivino", "Father's wine", "Kulinichenko's wine", magazine "Gide of good wine "," Drinks + " and "Drinks & innovations ". Recently my photo was taken by Jensis Robinson in her article about Ukrainian wine in the Financial Times. In 2022 together with the publishing house "Osnovy" I plan to publish an image photo album about Ukrainian wine – the material is enough. It takes 700,000 hryvnias, or + 20,000 euros, for this publication to be published, and I want to attract investors.