46 Parallel Wine Group #6
+380 503 603 597 info@46parallel.wine
Uniting Ukrainians through wine
46 Parallel Wine Group is a Ukrainian family company established in early 2020. Our mission is to become Ukraine's business card in the world's wine industry. The company's wines are created exclusively from Ukrainian grapes, which are born on the 46th parallel in the south of Ukraine. We strive to prove that the unique climate and terroir features of Ukraine's 46th parallel enable us to create wines of the highest quality. It is no coincidence that the best wineries of Burgundy and Bordeaux are also located on the same 46th parallel. 
The company's core value is people. 46 Parallel Wine Group has brought together the best Ukrainian experts not only in winemaking, but also in related industries, in order to create wines that are worth being proud of. By developing its own brands, our company has been supporting and promoting the development of each of its partners: from small wine growers cultivating their best grapes for 46 Parallel Wine Group, to the companies ensuring the best IT solutions for our supply chain. Overall, more than 15 Ukrainian companies from various industries are involved in creation of each bottle of wine produced by 46 Parallel Wine Group. For this very reason, our success is the success of each of these companies, as well as the success of the entire Ukraine and the pride of the Ukrainian nation.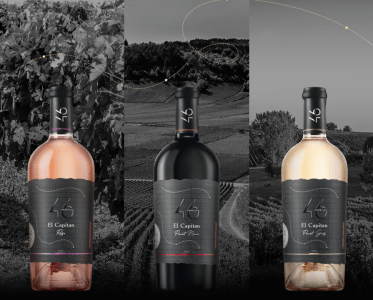 A sustainable trend for quality Ukrainian wine
46 Parallel Wine Group has been introducing a sustainable trend for quality Ukrainian wine, which is confirmed by world known wine experts' high comments, and high export demand. 46 Parallel is a Trademark, which gives the name to two premium wine collections – Grand Admiral and El Capitan lines. Both collections are produced in limited volumes with each bottle having its personal numbering.
No compromise on quality
We believe that in order to produce a high quality product there can be no compromise on the quality of any of the processes or any of the ingredients. Everything used and done in the production cycle has to meet the highest quality standards. It is thanks to this that during the first years of its existence, 46 Parallel Wine Group has won more than 70 awards at domestic and international tasting competitions, including:
Gold and silver medals from Mondial de Bruxelles;
Medals from the US competition – USA Wine Ratings;
Grand Gold Medal from Sélections Mondiales des Vins Canada;
Awards from the London Wine Competition.
The company's slogan is "Proudly Ukrainian!". The company says: we are proud of the quality and origin of our wines, and are confident that we will be able to make the entire world fall in love with Ukrainian wines!