The ambassador of Ukrainian cuisine
Yurii Kovryzhenko is a well-known Ukrainian chef, gastro diplomat, TV presenter, whose author's molecular borsch astounded the Michelin Guide. Yurii was educated in the best culinary schools in Europe – Ecole Ritz Escoffier, Ferrandi Paris, Basque Culinary Center, and others.
He has received many awards and prizes: Global Chef Awards 2017, Ambassador of Taste for the Global Gastronomy 2021, 2022, Gold Medal Best of Gastronomy 2021. Yurii is also a member of the Order of Disciple Escoffier International.
Yurii Kovryzhenko's name is strongly associated with Ukrainian cuisine, both in Ukraine and abroad. He is the Ambassador of Ukrainian cuisine worldwide, promotes national gastronomy at official events at Embassies, international forums and competitions, and cooks for top officials and the political elite. HYurii cooked borsch in 30 countries of the world on four continents. He opened restaurants of Ukrainian cuisine in Seoul (Korea) and Tbilisi (Georgia). Currently, he is opening the Ukrainian neo-bistro Mriya in London, which he calls the "cultural and gastronomic embassy of Ukraine".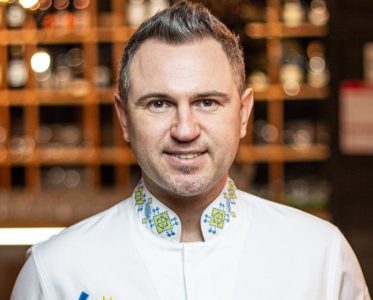 From art in sculpture to art in a plate
Given his experience and high academic professional education, Yurii considers Ukrainian cuisine to be one of the most difficult in terms of cooking technology. He respects homemade traditional recipes. At the same time, he's always looking for modern and "haute" variations.
He came to gastronomy from the world of sculpture, and therefore his dishes are characterized by special aesthetics and thorough attention to the smallest details.
Support of Ukraine in wartime
At the time of the start of Russia's war against Ukraine, Yuri was in London as part of his gastronomic mission. He is actively involved in charitable activities to raise funds for Ukraine. In two months, he held more than 20 charity dinners and raised more than £500,000. Highlights include a 1,000-person lunch at the Grosvenor House JW Marriott and dinner with Jamie Oliver.
He loves challenges.