A small family company with big dreams and goals
¡Hola! Winexfood is a family business that was founded in 2012 by Shukhrat Khakimov and Luis Campoz de Azcarate. We are a small company but with big dreams and goals.
WINExFOOD is a wine and food producer and merchant from the sunny coasts of San Juan de Alicante, Spain. We produce and export more than 1000 wine brands from more than 70% of Spanish appellations. You can meet our wines all around the world – in Europe, North and Central Africa, Russia, Kazakhstan, Ukraine, Kyrgyzstan, China, Japan, South Africa and we work hard to expand our geography so Spanish wines are globally recognized and accepted.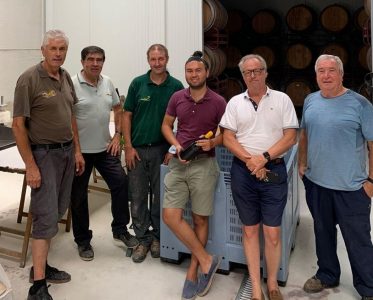 Sustainability is the mission
Our mission is to create high-quality products using principles of organic farming. We want to inspire people for responsible consumption and production because it is simple, fun and healthy. That's why every day we work on improving our processes of production, operation, communication and promotion so every part of our business would grow as an important and responsible part of the society.
Our vineyards are mostly located in Planes (Alicante), Fuente la Higuera & Onteniente (Valencia), San Martín de Unx (Navarra), Sant Sadurní d'Anoia (Cataluña), Curiel de Duero (Valladolid). But as a merchant we work with more than 60 wineries that are spread all over the Spain.
Globally recognized honored wine «bestsellers»
Hidden in the Low Mountains of Navarra, our small terroir of Garnacha Tinta, Garnacha Blanca and Viura, give life to a delicate treasure -Mairu. In the mythology of our Land, Mairu are giant builders of stone monuments that we can find in the hidden mountain landscapes. A wine full of aroma and flavor thanks to the uniqueness of the land and dedication and love of our grape growers. This wine is aged for at least 12 months in an oak barrel and at least 3 months in a bottle. It has a rich fruity aroma, complex and velvety taste.
Mairu Crianza: Gold Medal Mundus Vini 2021, Gold Medal CWSA 2021
Our delicious Frizzante «La Espardenya» is a balanced and sweet wine, with an intense nose of white flower and peach. On the palate it is broad and denotes a pleasant sparkling sensation with elegant bubbles.
La Espardenya Frizzante Blanco Gold Medal Mundus Vini 2021, Silver Medal CWSA 2021, Silver Medal AWC Vienne 2021
This cava reflects the personality, passion and pioneering spirit of Don Ginés Llorca, a man of the sea by family tradition and a passionate sportsman born in Villajoyosa, a small town bathed in the Mediterranean, who was nicknamed the Consul of La Vila for exporting the outgoing and festive character of this Alicante fishing village. Cava Don Ginés Cónsul de la Vila has a fruity taste with mineral shades, pleasant acidity and dry finish. Aroma is fresh, elegant with notes of green apple, pear, herbs and minerals.
Don Ginés Cónsul De La Vila Brut Blanco Gold Medal CWSA 2021, Silver Medal AWC Vienne 2021
This is the winery's youngest wine. To make the wine, we use Tempranillo grapes from our vineyards planted on limestone soils and grown according to the principles and practices of organic farming, they produce grapes with intense bouquets each year. We then add grapes from other vineyards where the vines are grown according to conventional methods, planted in La Horra and Quintanadel Pidio, two municipalities of long-standing winegrowing tradition. The must is fermented with our own, unique and personal yeast, selected and isolated at the vineyard around the winery since 2004.
Finca Hontanillas Gold Medal CWSA 2021, Silver Medal AWC Vienne 2021