winestofind@gmail.com
Instagram - @winestofindpodcast

Wine mission - wine passion
Sisters, Sandy & Michelle, are on a mission to try two new wines per week. While tasting and reviewing, they share helpful hints as well as tips and tricks to wine tasting and selection. Periodic guests spanning the spectrum of the wine world, from the hobbyist to the wine insider will bring an additional perspective by sharing their wine stories as well as their interpretation of the wine tasted. Each episode uses the Wines To Find simple method for curating wines. Taste along with us and share your thoughts on whether or not the wines featured are Wines To Find.We have been listed in the Top 50 wine podcasts!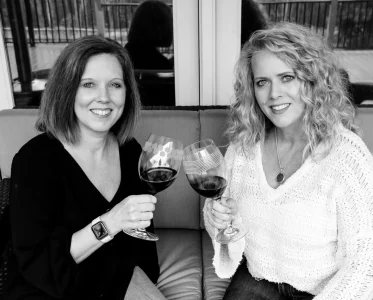 Tasting Events & Wine Education
Wines To Find provides wine education and wine tastings for individual, group or corporate events. Sandy & Michelle tailor information for all levels of wine knowledge and interest. They offer virtual or in-person tasting events and educational seminars, such as Girls Night Out ~ Food & Wine Pairing Education, Meet The Winemaker Event, Birthday Celebration ~ Wine Tasting, Customized Wine & Dinner Pairing ~ Dinner Party and Blind Wine Tasting Challenge.
On its way to success
Wines To Find Podcast is featured on Pairs With Life Podcast in their 2021 Best Podcast list and Feed Spots Top 40 Wine Podcasts list. They are also featured in an article, A Wine Makers List of Top Podcasts, on Buderflys.
They did a collaboration with 3 Ladies and a vine. Sisters had them on Ep 77 discussing summer cocktails and Rosé. They then interviewed Sandy & Michelle for their blog with a lovely indepth article about us.
Sandy & Michelle are finalists in four categories of the 12th Annual Taste Awards. Since the show was virtual this year they held their own Red Carpet Watch Party. Of course, they had to make it a tasting event too. 
Also, Wines To Find did an episode about the Wine Travel Awards, where they discussed its nominees, partners and the opportunities the project provides for its community. Listen to the episode here.