+380505623219 kovach_v@ukr.net
He fell in love with the aroma of grapes and wine
Greetings from Vitaliy Kovach from Zakarpattia, a wine-growing region of Ukraine. Vitaliy has been familiar with the world of wine since his childhood. Once, during the harvest, when all the adults left, he stayed at the crusher and decided to smell the aroma of grapes rising from the barrel. It was an incredible experience, and from then on he fell in love with the aroma of grapes and wine. 
After starting his winemaking studies in 1997, he realized that this was his calling, as he enjoyed understanding and learning about the wine production process. When he started working in the capital, he was offered a job as a sommelier. Initially, he completed his studies at the first sommelier school in Ukraine, «Master Class», 
At the age of 21, he went to Italy to study. In a fairly short period of time, Vitaliy successfully completed his studies at the sommelier school of the "Italian Sommelier Association", passing all three levels within two years. After graduation, he had the opportunity to work at the "Hidalgo" restaurant, where 20 thousand bottles of wine are stored in the cellar. Also, he joined the "Merano Wine Festival" tasting committee.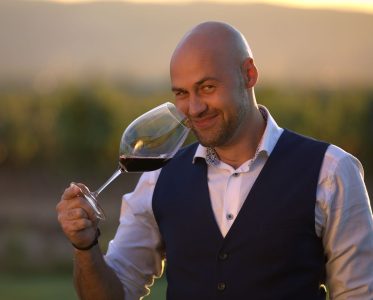 Vitaliy's wine list and the "Two glass" award
After receiving official confirmation from the United States in 2002, Vitaliy's wine list received the "One Glass" award from WineSpectator magazine for the best wine list, which was the first time in the CIS. The following year, his wine list received the "Two glass" award.
Since then, Vitaliy has continued to learn and develop himself as a sommelier. We all know that the life of a sommelier is a path to learning about wine, its regions and history, as well as excellence in customer service in a restaurant. This path requires continuous development and the pursuit of knowledge.
Brand ambassador of Italian wine
Returning to Ukraine did not stop Vitaliy in his quest for knowledge and popularization of wine culture in his home country. He founded the Vitaliy Kovach Sommelier School which has been teaching students to understand wines since 2010. In 2019, his school became the first Ukrainian-language online school and continues to be a leader in this field. 
Vitaliy is considered a well-known Ukrainian wine expert and TV presenter who promotes wine culture in Ukraine and abroad. After studying in Italy, he began to work actively to popularize Italian wine in Ukraine. On his recommendation, hundreds of the best Italian producers and thousands of different wines from all wine regions were brought to the country. This work allowed him to obtain the unofficial status of brand ambassador of Italian wine in Ukraine.
In addition, Vitaliy is a lecturer on Italian winemaking, and he cooperates with the Consortium of Valpolicella producers and the Drinks+Communication Media Group. Also, he takes part in annual joint events with Gamberro Rosso and the Italian Wine Summit, as well as other wine events in Ukraine and abroad. 
Probably, the most famous project in which he has been actively involved is the television project "Wine Map TV". This is a wine travel show that allowed Vitaliy and his team to showcase 18 different wine regions of the world and familiarize their viewers with the wine culture of wine consumption and production. There he acted as a host and was also a co-author of the project.
Vitaliy is also proud to be the official brand ambassador of the "Villa Sandi" group, the creator of Prosecco, which has received three glasses from "Gambero Rosso" for 11 years in a row!