Vini Armenian Wine Guide #147
https://www.facebook.com/viniguide.am
+374 552 50 891
Every Armenian wine
Vini.am is a project supported by GIZ with a unique philosophy aimed at promoting the wine culture in Armenia, popularizing this noble drink in Armenia and obtaining official recognition of domestic wines in the international arena. 
With the slogan "Every Armenian wine", Vini's ultimate mission is to familiarize consumers with every single wine and every wine producer irrespective of its size and capacities in Armenia in a professional manner, taking into account international experience and the cultural spirit of the country.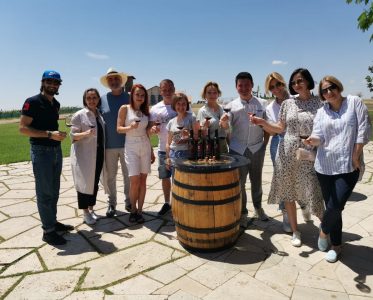 Discover Armenian wineries of all size
The project features a comprehensive wine guide, where you can find all the information about Armenian wineries irrespective of their sizes and production volumes, vineyards, wine events, etc. 
As part of the project, the website features main wine-growing regions of the country, with autochthonous and selective Armenian grape varieties, as well as presents the unique Armenian terroir as an exceptional area for professional winemaking.
The bridge between all segments of the wine industry
An empirical approach, professional assessment and an endless love of wine are the three main engines of the project, which help identify worthy representatives and find hidden works of art. 
The VINI project has become the main link between all segments of the wine industry in Armenia (producer, HoReCa, private consumer), thereby bringing them all together on one common platform for one common goal. The first interactive "Wine Map of Armenia" and "Wine Map of Yerevan" developed by us occupied an exceptional niche in the project.