vbabij1961@gmail.com
+380506723100
A story of passion. The best craft of the Carpathian Mountains
It all started almost 10 years ago, when Viktor Babiy, a mechanical engineer in the past, began experimenting with a home moonshine still…
The beginning of production of the brand Fayna Guralnya is considered to be 2019, when, after several years of testing and improving the formula of his distillates, Viktor Babiy felt that he was finally ready to open a small family distillery, which is equipped with professional equipment and guests can taste a range of quality samples, choosing the best ones for themselves. TM Fayna Guralnya offers a unique range of gins made on the basis of crystal-clear water from Morshyn Springs. Following classical technology, the basis of gins is premium wheat spirit, Macedonian juniper from the Alps and hand-picked and dried herbs from the Carpathian Mountains. In total, TM Fayna Guralnya has six fruit distillates, five types of gin and is preparing to release two types of whiskey (malt and bourbon).
In 2020, Carpathian Gin received its first "Gold Award" at the Ukrainian Independent Craft competition. Then, in 2021, this gin was awarded "Gold" at the Ukrainian Craft Spirits competition, and in the same 2021, the entire line of Guralnya gins was awarded "Gold" at the Gin Tasting Competition Crown of the Distillery.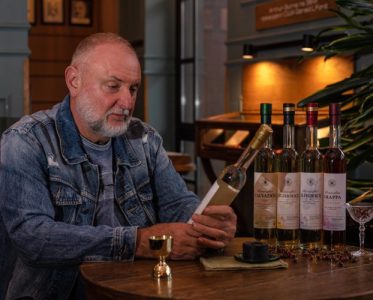 Awards and fans` recognition
Gourmets highly appreciate London Lottos Blue Gin. The drink is made according to Mr Victor's exclusive recipe. Eleven herbs were used to create the flavour bouquet. The highlight of the gin is the use of Chinese Anchan tea, which is made from dried flower buds of the Clitoria ternatea herbaceous vine. The infusion of Anchan petals has medicinal properties, and has a rejuvenating effect. The infusion of this plant is bright blue, which is why London Lottos Blue Gin has a unique pale cornflower hue. The next consumers` favourite is the apple brandy, which follows all the stages of the classic calvados technology.
Fayna Guralnya comes to the European market
Today, TM Fayna Guralnya has perhaps the largest collection of oak barrels for various purposes. Several hundred of them were bought from one of the historic Grand Cru Bordeaux – Château Beychevelle, the rest were purchased from the Shustov company, these are brandy barrels.
European importers, namely from Poland and France, are already interested in Guralnya's drinks, and a cooperation agreement has even been signed with the French importer.
Some may say that producing a good drink requires quality products and modern technology – and it is true – but it is hard to disagree that to achieve a perfect result, passion, dedication to your favourite business and tireless work are important. All of these things gradually turn a dream into a wonderful reality, and the first tentative steps into a life's work. But there are still many stages ahead for growth and improvement, as Viktor believes.