Prince Trubetskoi Winery #54
Sviridova str. 3, Veseloe village, Berislavskiy region, Khersonska region, 74344
+380 508 78 4738
Pearl of the Black Sea
Prince Trubetskoi Winery is a modern winery with a long history and a unique terroir in which the world's most famous grape varieties grow, some of which are unique to our country. Since the end of the XIX century, with the laying of the first vineyards and the construction of the Chateau by Prince Trubetskoi, the winery has come a long way in winemaking and gained experience. 120 years of experience can be experienced by tasting the wine "Riesling Rhine", which back in 1900 won the Grand Prix of the Paris Exhibition, and now this wine receives the highest awards in competitions. Vintage wines, developed back in 1949, are still our business card. In 2004, the winery received a new impetus in development, the world's best grape varieties were planted, and a state-of-the-art winery was built.
Today, the winery combines decades of experience and an innovative approach. In 2021, we began a new stage in the development of our winery. Moving at a fast pace, today we will also not stay away from the rapid development of all Ukrainian and world winemaking.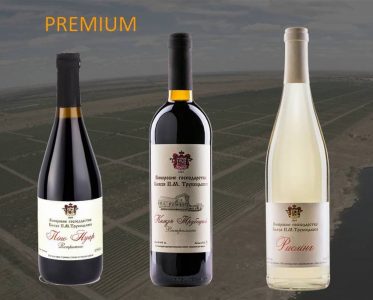 Wines to be proud of
Prince Trubetskoi Winery received numerous awards for its wines in 2021:
Concours Mondial of Brussels 2021 – Oksamyt of Ukraine 2016 (silver medal).

Mondial des Vins Blancs Strasbourg 2021 – Rhine Riesling 2016 (silver medal 88.7 points).

All-Ukrainian tasting competition Odessa Wine & Spirit Awards 2021 – Rhine Riesling 2016 (gold medal – the best white wine of Ukraine 2021); Pearl of the Steppe 2017 (gold medal); Oksamyt of Ukraine 2016 (gold medal); Chateau Trubetskoi 2018 (silver medal); Cabernet Franc 2017 (silver medal).

Ukrainian Wine Festival 2021 – Rhine Riesling 2016 (gold medal); Chateua Trubetskoi 2018 (gold medal); Pearl of the Steppe 2017 (silver medal); Cabernet franc 2017 (silver medal).
4 wine collections in the portfolio
Select – this collection is made from high quality grapes grown in our vineyards on the slopes of the Dnieper. Wines are not aged in wooden barrels. Total 9 SKU Cabernet sauvignon, Merlot, Malbec, Shiraz, Chardonnay, Aligote, Sauvignon Blanc, Riesling, Pinot Blanc.
Reserve – wines of this collection are aged in barrels of 225-500 liters for 6-8 months. Total 7 SKU – Chardonnay reserve, Riesling reserve, Cabernet sauvignon reserve, Merlot reserve, Pinot noir reserve, Cabernet franc reserve, Chateau Trubetskoi reserve (the first Ukrainian classic Bordeaux blend).
Grand reserve – wines of this collection are a business card not only of our winery, but also of all Ukraine. Wines produced in our country since 1949. Aging of wines in barrels of 225 liters from 18 to 24 months. Total 3 SKU – Pearl of the Steppe, Naddnipriakske, Oksamyt of Ukraine.
Premium wine – wines that are incomparable for us, wines that build our future, in which we use the vast 120 years of experience of our terroir. Total 4 SKU – Rhine Riesling, Pinot Noir limited, Prince Trubetskoi, Sparkling wine Blanc de Blancs.