A long and diverse journey through word of wine and spirits
Paul Robert Blom was born in Amsterdam-Holland. In fact, he began his journey into wine and spirits in 1965, when he joined the sales-force of Schermer. He has been sworn in Court as an international Courtier & Judge since 1997 and is a member of the Dutch wine-writers association. 
He assisted Mr. Hugh Johnson to update his Pocket Book on Wine 1997 as well as Mrs. Jancis Robinson to update the World Wine Atlas 2003. His articles and pictures have been published in several Wine Magazines such as Winetrader – USA, Drinks Slijtersvakblad – NL, and Wijnkrant Perswijn. He is fluent in Dutch, English, French, German, Italian and Croatian. 
Paul Robert created several high awarded wine blends in Slovenia, Portugal, Croatia, Macedonia, France. In addition to this, 3 blends for the Vieux Marc de Châteauneuf-du-Pape.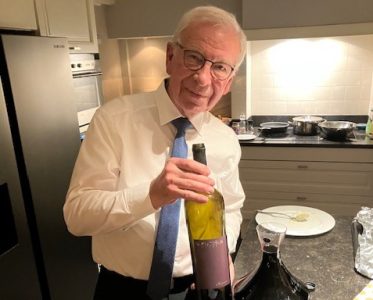 Award-winning wine personality
He is awarded as "BEST Wine personality of the Balkans 2021" during BIWC in Skopje, first Vranec Ambassador in SKOPJE in 2019 as well as first ambassador for Romanian wines in Bucharest in 2017. Moreover, he was honoured 'Honoris Causa' as Registered Vinoloog to the Wine Academy (3rd in Holland).
Judicial and lecturing professional experience
His judging story started in 1977 at Vino Ljubljana and includes Banca d'Assagio Torgiano – Italy; Urgüp – Turkey; California N.W.I.W.C; Rioja – Spain; VINITALY Verona; ZARCILLO Penafiel; Dutch National Wine Contest; Mundus Vini; Mondial Lisbon / Maastricht / Luxembourg; Ljubljana Wine Festival; Vinistra Porec; Cinve Valladolid Spain; Festiwine Dubrovnik; BIWC #4 Sofia; Romanian wines Transylvania; Michelangelo Cape Province South Africa; Danube wine Contest at Chateau Belá; Sélections Mondiales in Montreal; Bulkwine Competition Amsterdam all events, and continues even today in 2023.
He tasted in three juries for anti-fraud in Holland since 1980. He also was a lecturer for the Wine-academy Middle Europe from 1978-2008 and worked in the Wine-academy Examination board from 1979 till 2008.