Harvest Celebration at Chateau Mukhrani #78
Village Mukhrani, Mtskheta 3309
The signature event at a cultural and historical Georgian center
Château Mukhrani represents an iconic part of Georgian history. Built in the XIX century, the palace and surrounding gardens were designed by French architects. The construction of the palace took 12 years to complete. Both the palace and grounds captured visitor's attention. It became a cultural and political center for the Georgian and foreign elite, a focal point of European and International influence. 
Since 2011, the harvest celebration event has become the signature event celebrated at Chateau Mukhrani. The main objective of the event is to strengthen the brand's image among different target audiences and make guests enjoy an emotional, extraordinary, and memorable event.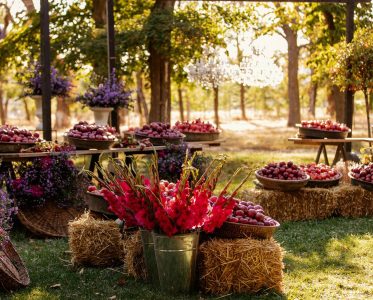 The celebration of the harvest can be different
The harvest is celebrated in the last weekend of September. Traditionally, the general concept of the Celebration is "Harvest", but throughout these years, each event is different and unique in terms of sub-concept, décor, gastronomic trends, design, show elements and activities.  
Influencing the wine tourism image of the Chateau
The harvest celebration event plays a big role in the formation of Chateau Mukhran's wine, tourism, and hospitality image on local and international markets. Specially on this day, up to 500 guests have the opportunity to participate in the grape picking and pressing in the Georgian traditional wine press, participate in the Georgian traditional culinary master classes, taste the exclusive wines of Chateau Mukhrani and be one of the first to be introduced to new plans and projects of the company.  
The harvest event gives us a unique opportunity to make everyone feel the special energy that makes Chateau Mukhrani so special.