Persistently pursuing his career goals
Daniel's ambition of working as a sommelier started in 2018 at the age of 31, having switched careers a few years prior from tech to hospitality, whilst doing a 'stagiaire'  in the world-famous 3 Michelin-starred restaurant Geranium, Copenhagen. During  that time, he saw the sommelier's work and what it took to become a sommelier, and when coming back to Belfast, Northern Ireland, he enrolled on to the Court of  Master Sommeliers training in 2019. During the first year of COVID-19 in 2020, he studied every day to pursue his dream of becoming a sommelier, as the restaurants in Northern Ireland had to stay shut for most of the time.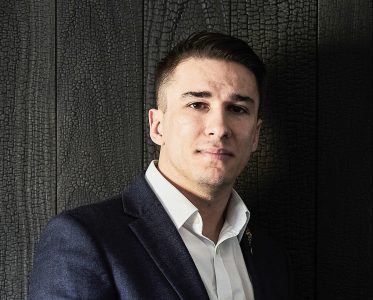 Kick-start to the sommelier profession
In August 2020, Daniel entered the competition for 'Best Sommelier in Ireland' and won the title in his first competition whilst never working a day as a sommelier in his  career. This was the kick-start that ignited the fire in him to prove himself as he was a  newcomer in this industry. To further his career, he then took on his first sommelier role and moved with his wife from Northern Ireland to England and started as head sommelier of a 2 Michelin-starred restaurant, Raby Hunt, in May 2021. 
Achievements and aspirations derived from the passion
During this time, Daniel passed the Court of Master Sommeliers Certified exam, won the  prestigious Gérard Basset Travel Scholarship and competed for Ireland at the 'Best  sommelier in Africa and Europe' contest and finished amongst the top 16 sommeliers  of both continents whilst working as a sommelier for only 6 months. 
In early 2022, he was then awarded the title of 'Emerging Talent in Wine Hospitality'  by the IWSC, which proved to him again that he is on the right track in his new  profession at the age of 35. This showed him that when you find your passion, and  work hard, you can achieve goals and be successful. Following this win, he is also  now a IWSC wine judge. 
Daniel is dedicated to helping up-and-coming sommeliers reach their potential and  fall in love with hospitality as the industry faces so many tough challenges these days. 
Having a competitive spirit, he entered the UK Chianti Classico Ambassador Competition and made it to the final 8 after an intense theoretical questionnaire  about the region. In that final, he had to showcase his blind-tasting skills and appear  in front of a judging panel. After a long tough day, he was announced as the winner  and became the first-ever UK Ambassador of Chianti Classico. 
Chianti Classico in Tuscany is the oldest officially demarcated wine-growing region in  the world. The region is going through a renaissance as almost 50% of all producers have switched to organic farming practices and, therefore, the quality of Sangiovese  has risen exponentially. Critics as well as wine lovers around the world have seen the  potential of ageing Chianti Classico wines for many years, as it is still seen as a little  secret amongst fine wine collectors. 
Daniel has been to the region twice and also sees the role of modern sommeliers as becoming specialists in specific regions whilst still working on the  restaurant floor and engaging his guests.  
Daniel still has a lot of goals as a sommelier as he is preparing himself to take the  next stage of his journey (Advanced sommelier) in the quest of becoming a Master  Sommelier and eventually Master of Wine. 'The sky is the limit!' as he likes to say.  Daniel resides with his wife Louise in Oxfordshire and works for Estelle Manor, a  hotel that will open its doors in April 2023. 
Achievements and accolades:  
2019 – Introductory – Court of Master Sommeliers
2020 – Best Sommelier in Ireland – Irish Guild of Sommeliers
2021 – Welcome and Service Award
2021 – Michelin Guide UK & Ireland
2021 – Certified – Court of Master Sommeliers
2021 – Gérard Basset Travel Scholarship – Gérard Basset Foundation
2022 – Emerging Talent in Wine Hospitality – IWSC
2022 – Gold Diploma (Highest scorers UK) – ASI
2022 – UK Chianti Classico Ambassador