MD3613 Mircești, Raionul Ungheni
A role model of small wineries in Moldova
Crama Mircești SRL is located in the village of the same name in Ungheni district. Although it was only a few years old when it was created, the winery has become a role model of small wineries in Moldova, thanks to the modern approach to wine production. This region, the village of Mircești, has a historical importance and has a good terroir for wines with a strong character. Therefore, Arcadie Fonea, the owner of the winery, laid the foundations of a winery and began the renovation of the boyar mansion nearby, keeping its specific symbols. Recently, the winery has been equipped with a meteorological data generation station, and employees are applying modern strategies for cutting vines and testing them against disease, using drones. Mircești Winery is also the host of experiments and wine demonstrations within the project "The best grapes", which aims to identify best practices for growing grapes in the national context.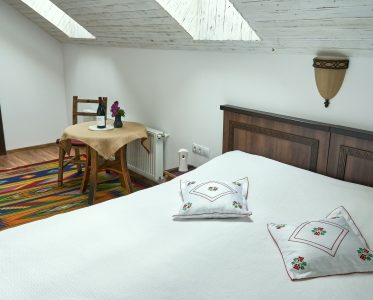 Favourable conditions for growing quality grapes
The 15 ha are located on slopes with up to 30 ° inclination, with southern, eastern and northern exposure, at an altitude of 340 meters, being one of the highest vineyards in Moldova. According to the winemaker, this micro-zone offers very favourable conditions for growing quality grapes: soils, 3,200 hours of sunshine per year, similar to southern areas, but high acidity, specific to the north and high humidity with over 650 mm of annual rainfall. The maximum production capacity of the winery is 50,000 bottles of wine annually, from valuable local and European varieties. The wines are in the premium category, which focuses on terroir.
Сelebrate your special occasion at Crama Mircești
Homemade juice, delicious old-school pies that only the most skilled housewives used to make, sarmale (stuffed grape leaves) like you have never eaten before – all of them, accompanied by wines, will make you have experiences you'll miss. If you have a family event, spend it nicely at CRAMA MIRCESTI! We are ready to join you with a warm atmosphere, tasty dishes and selected wine. Leave the care of the organization to the expense of dedicated people, passionate about what they do and pay attention to details. Besides the restaurant, Mircești Winery provides 13 delightful rooms at the hotel. They are all designed to make you feel the comfort you dream of, when you want to experience a get-away weekend, a breath of fresh air and a good wine, away from the rush of the city.