Castel Mimi #25
Republic of Moldova
village Bulboaca
Republic of Moldova, district Anenii Noi, village Bulboaca
+373 265 0 1893, office@castelmimi.md
On the Wine Road of Moldova
Castel Mimi was founded in 1893, renovated and opened to visitors on 17th September 2016. It is included in the Wine Road of Moldova, which is the first cultural-tourist route certified by the Council of Europe as part of ITER VITIS Les Chemins de La Vigne en Europe. Castel Mimi is located in the district of Anenii Noi, village Bulboaca, only 40 km from Chișinău and 35 km from International Airport.
Tasting Tours at Castel Mimi
Castel Mimi invites you to discover the taste of real wine, accompanied by delicious dishes, and to take part in guided tours through the underground galleries and gardens of the Castle for an unforgettable experience. The cellars built of brick and limestone have a special charm, because they are preserved as we built them by Constantin Mimi.
Tour of Castel Mimi
A guided tour of Castel Mimi will shed light on many events and historical details that have been kept secret for decades and will lead you to another era, in those times when the great winemaker Constantin Mimi himself was working on creating recipes. During the tour, guests take walks through the courtyard, gardens, castle cellars and timetable where they will discover the story behind the only chateau in Moldova.
Enjoying wines in one of the most beautiful wineries in the world
The winery features today one of the most advanced production facilities in Moldova, equipped with modern machineries that cover: grape processing, juice fermentation, storage, maturation and bottling. All these stages are carefully monitored and coordinated by professional Moldovan oenologists that gained experience in the USA, Australia and Romania. The storage has a total capacity of 200.000 hectoliters. Wines are stored in stainless steel tanks with volumes of 500, 750 and 1000 hectoliters, connected to a modern cooling system that assures automatic temperature control.
Maturation takes place in the historical cellars of Castel Mimi. The winery holds near to 1000 oak barrels from top class brands like Radoux, Quintessence or World Cooperage, with average prices between 550 and 1750 EUR per unit. This is the biggest barrel storage in Moldova. The cellars possess a natural ventilation system that guarantees a permanent temperature of 12 °C, while the walls of limestone maintain a comfortable 85% humidity and a balanced micro-flora.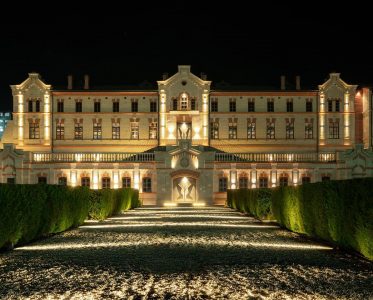 Wine series: classic and reserve
The Classic – wine series is produced with deep respect for old Moldovan traditions that were successfully combined with last generation equipment. Wines from the Classic series are matured in high quality oak barrels, between 6 and 18 months.
The Reserve wine series – the highest form of perfection. Premium quality wines produced from selected grapes, harvested in 2012. Merlot and Cabernet Sauvignon Reserves were matured for 36 months each in Limited Edition French oak barrels.
Wines: dessert and animaliens series
Dessert wines produced from frozen grapes at temperatures between -6°C… -10°C through a special technique. Their intense golden color invites you to savor sweet noble bouquets of ripe exotic fruits.
Animaliens series features young unoaked wines with fresh and persistent characters. Bright wines that express the vivacious and generous character of the Moldovan land and people. The label of each wine displays the drawing of an animal that belongs to local legends and stories, re-interpreted in a contemporary key. The colorful symbols describe wine bouquets, recall patterns from precious traditional Moldovan carpets, and pay tribute to specific locations, beliefs or historical events.
Establishments on the territory of the wine resort
Restaurant "The White Owl" with a capacity of 100 seats. All dishes are prepared with the highest quality, fresh ingredients and designed to have the minimum impact on the environment. There is pleasure in every bite, especially in the company of top Moldovan wines from our collection.
The "Wine party room" features long tables, comfortable sofas and a wine bar and is open to all Castel Mimi visitors. It is also available to hire as a party venue for groups of up to 60 people. This Bar is the perfect location to enjoy a glass of wine, take a coffee or sample some of the best traditional food Moldova has to offer.
When visiting our "Wine and coffee time" bar, guests can relax in comfy window-side sofas, sit at the bar or take a table. Whatever your choice you will be astounded by the amazing views whilst you enjoy our menu of top Moldovan wines, hot and cold drinks.
Castel Mimi boutique hotel is a 5-star resort which includes seven unique bungalows built with stone and designed by the world-famous Italian designer Arnaldo Tranti. The fusion of local traditions, contemporary architectural elements, and minimalist design is combined with elegance, comfort and intimacy. Each bungalow features a balcony, double bed, bathroom, desk, flat screen digital TV, mini bar, kettle, tea and coffee machines, closets, safety lockers, free WI-FI, air conditioning and free parking.
Swimming Pool – an Olympic-sized swimming pool, 25 meters long and ideal to spend some quality time during the hot days of summer.
Medieval Garden
Cellars