info@anselmomendes.pt
+351 227 128 541
Wandering the pages of history
We began producing wine with Alvarinho grapes in 1998, in Monção and Melgaço. Currently, we produce wine from three white grape varieties (Alvarinho, Loureiro, Avesso) and one red grape variety (Alvarelhão) in three regions of the Vinho Verde Demarcated Region: Alvarinho and Alvarelhão in the Minho Valley,Loureiro in the Lima Valley and Avesso in the Douro Valley. But our variety of choice is Alvarinho, in which we have invested more time and devotion, seeking to take full advantage of its natural characteristics and potential. Also, we produce wines from other regions, such as Douro, Dão, Beira Interior and Açores.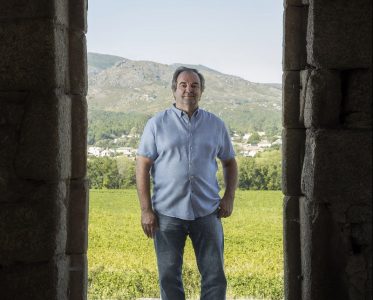 Winning philosophy
Our work is recognised in Portugal and abroad, not only for the excellence of the wines we produce but also for the consistent manner in which we innovate. The fermentation of Alvarinho grapes in wooden casks or the use of traditional vinification techniques, such as fermentation on skins, are just some of the methods that set these wines apart in the world of whites. We produce white and red wines that have already won various prizes and distinctions and earned the trust of the most demanding critics and wine lovers all over the world.
Quinta da torre
Casa da Torre Quinta da Bemposta is an estate with over 60 ha, located in Monção, with an historical manor house that dates back to the 14th century, where different types of soils cohabit, such as alluvial soils, stoned rolled fluvial terraces, and even various kinds of granites with numerous textures. Here, resides the future of our wines, and our experiments, where the dominant grape variety is Alvarinho. The property is part of the ecological network, where besides the vineyards, you can find woods with relevant biodiversity and a wide river-front of Rio Gadanha, tributary of the Rio Minho.